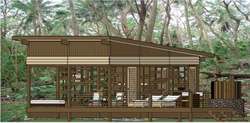 Indulge in some R+R, Remote-Style
(PRWEB) September 15, 2010
The Remote Resort today announced plans for The Remote Resort Fiji Islands, an oasis for lovers of off-the-beaten-path remote luxury in the South Pacific. The Remote Resort Fiji Islands seeks to create a place where raw environs and chic luxury meet and offer guests a Fiji experience like no other.
Guests will soon discover a charmed island life with the most unique and innovative designed guest pavilions that Fiji has to offer. They will soon find themselves relaxed, rejuvenated and as-one with nature.
Serene sanctuary or vibrant adventure. Either way, developer Dan Dimmock says, "The focus is on savoring life's uncomplicated pleasures, in style. Fiji is a magical place and the Remote Resort is planning on making magic for all guests who visit the Resort."
From the beach at sunrise you can watch the local villagers' fish from dug-out canoes, a time-honored tradition. Or explore the world under the waves diving the Rainbow Reef, considered one of the most famous dive sites in the South Pacific.
Slated to open in June 2011, The Remote Resort Fiji Islands is set to be a special type of experience offering all inclusive Fiji vacations, family holidays, traditional Fijian weddings and romantic honeymoons. A fantasy island experience far away from the everyday.
The Remote Resort Fiji Islands is located in the Somosomo Strait, which lies between Vanua Levu and Taveuni and is sure to be on the Hot List of Resorts to visit in the future.
http://www.remoteresort.com
http://www.facebook.com/resortfiji
###