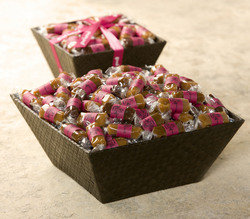 Bozeman, MT (PRWEB) September 21, 2010
Good Karmal's first ever "Give Back Gift Basket" will be available throughout the month of October exclusively on http://www.goodkarmal.com. Customers can choose from 30, 60, 90 or 120 pieces gift packaged in a keepsake basket hand-woven from the leaf of the Pandan tree, a completely renewable resource. Each piece comes wrapped in a "fortune" inscribed with a quote of wise words in exceptional flavors like Vanilla Sea Salt, Chocolate Sea Salt, Pomegranate (new!), Espresso, Green Apple, and Chipotle. Celebrity fans of Good Karmal include Oprah Winfrey, Philip Seymour Hoffman, Keri Russell, Mary-Louise Parker, J.J. Abrams and Greg Grunberg.
About the National Breast Cancer Coalition (NBCC)
The National Breast Cancer Coalition (NBCC) is dedicated to ending breast cancer by 2020 through the power of grassroots action and advocacy. NBCC increases funding for breast cancer research; monitors how those funds are spent; expands access to quality health care for all; and ensures that trained advocates influence all decision making that impacts breast cancer. For more information visit http://www.BreastCancerDeadline2020.org.
###