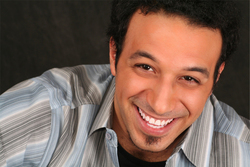 "Give me some soil...where there's no oil, up on the land!"
New York, NY (PRWEB) September 15, 2010
After many years of doing Standup in NYC, Emmy-Award-winning Graphic Designer turned Standup Comedian, John Powers finally has his own web series. The Hand-Off is unlike anything you've ever seen. Using Hauppets (Hand puppets), John Powers, co-host Duncan Jay and other Comedians put on a real show. This news-style show revolves around issues concerning our society today. Special guest comics give their opinions and insights. Remote commentators and special guest musicians make frequent appearances.
Webisodes are a dime a dozen, but the production value on this one is priceless. There are topic bars, name fonts, and even a bug. The news ticker updates relevant info on the bottom of the screen, and fills in blanks on the story. John's unique perspective comes through in this thought-provoking artistic display. Stay tuned for more special guests including Rachel Feinstein (Last Comic Standing & Comedy Central Presents), Sergio Chicon (BET) and Kendra Cunningham (SNL).
John Powers -- Started doing comedy upstate in Poughkeepsie, NY during his college years. John found a captive audience in the open-minded old hippies of New Paltz. After taking a hiatus to work for ESPN (and win an Emmy for his Graphics contributions to SportsCenter), John took the show to New York City and found much success. He performed in all the biggest clubs, including Caroline's on Broadway, Comix, NY Comedy Club, Standup NY, Broadway Comedy Club, Ha!, the Laugh Lounge, Laugh Factory, and Comic Strip Live. After several years on the scene, John started doing acting gigs, performing as a photo-double for Bobby Cannavale on "Cupid," and serving as a Naval Officer in Angelina Jolie's "Salt." Meanwhile, on the comedy front, John started "the Power Hour," a monthly comedy show hosted by Colin Cosell, and featuring the hottest talent around. In fall of 2008, the show moved to EastVille, a popular new club in the village. After two years of producing and headlining the Power Hour, John moved to Florida to retire. He now lives with his fish and does standup, webisodes, and various other productions whenever possible.
###