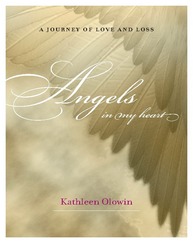 A must read for parents and professionals when a baby dies. It is a rare glimpse into the suffering of a family and the process of healing, as well as valuable insights and resources for recovery. -- Margaret Lash, RN
Charlottesville, VA (PRWEB) September 22, 2010
"I'm sorry. There is no heartbeat." With these words, the lives of expectant parents turn upside down in an instant. Whether a few weeks into a pregnancy or just before birth, the news that a baby has died is devastating to families. The excitement, hopes and dreams are gone in an instant and the parents are often left to struggle with the aftermath alone.
Over their first ten years of marriage, author Kathleen Olowin and her husband Aaron lost four of their children in utero. Each miscarriage sent them on an emotional roller coaster. "My heart felt like it was broken into pieces," says Kathleen. "My arms ached to hold the baby I would never see. And despite the support of my family and friends, I felt so alone." Angels in My Heart takes the reader on the author's journey of repeated loss and successful births and the strains those losses put on her marriage and parenting skills.
After the premature stillbirth of their son, Nicholas, in 2002, Kathleen began to offer day long support workshops, bringing grieving parents together to share their stories and common experiences. Drawing on the comments she repeatedly hears in these support days, Angels in My Heart includes chapters on the process of grief, how men and women grieve differently, the hurtful things people say when trying to offer comfort, and how to support someone enduring a loss.
"Every couple's story is different," says Kathleen. "But we all share common feelings and experiences in coming to terms with the death of our child." If someone does not have friends or family members who have been through similar experiences, expressing the emotions or fears may be difficult. Angels in My Heart reaches out to grieving parents, offering a hand to hold on the journey of healing.
The book is available on Amazon.com and fatherspress.com. The author can be reached at angelsinmyheart(at)gmail(dot)com
###