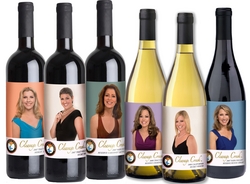 Toast To A Cure … Here's to the end of breast cancer !
Napa, CA (PRWEB) September 15, 2010
October is National Breast Cancer Awareness Month. Cleavage Creek Winery, dedicated to making fine wines and funding breast cancer research, is taking awareness of the disease to a new level. To focus attention on this month, Cleavage Creek Winery is inviting everyone to participate in the National Toast To A Cure. On October 1st, Cleavage Creek is asking all who want to beat breast cancer to raise a glass at 5pm PST/8pm EST to Toast To A Cure for breast cancer. Whether toasting with wine, juice, or water, everyone is invited to join in this big event and focus attention on a cure for breast cancer. A 'virtual toast' will take place at that time on Twitter and Facebook, with participants invited to join in the toast and write about it online.
Connect with Cleavage Creek Winery on Twitter: http://www.Twitter.com/CleavageCreek
Connect with Cleavage Creek Winery on Facebook: http://www.Facebook.com/CleavageCreekWine
Gather friends and family and celebrate a Toast To A Cure. Cleavage Creek encourages any who have been touched by breast cancer to write about it on Twitter and the Cleavage Creek Facebook page.
Participants in Toast To A Cure are invited to email photos of Toast events to Cleavage Creek where they may be added to the winery's website. CleavageCreekWine(at)gmail(dot)com
Raising awareness with Toast To A Cure could be a reminder to do a self exam, take a family member for a check-up, or honor the courage of those who have fought breast cancer.
Toast To A Cure … Here's to the end of breast cancer!
About Cleavage Creek Winery
Cleavage Creek Winery owner Budge Brown lost his wife of 48 years to breast cancer. To honor her memory, raise awareness, and fight the disease, his era of Cleavage Creek wine was born in 2007. Cleavage Creek donates 10% of the gross sales of all wines to fund Breast Cancer research ~ that's before profit. Over $72,000 has been donated in the Budge Brown era of Cleavage Creek. Each bottle of Cleavage Creek wine displays an actual breast cancer survivor on the label and her story is told on the Cleavage Creek website. The Cleavage Creek motto is "Live to love life."
Learn more about Cleavage Creek Winery at http://www.CleavageCreek.com
CONTACT:
Laura Kirkham
The Laura Kirkham Agency
760.341.1410
Laura(at)LauraKirkham(dot)com
###