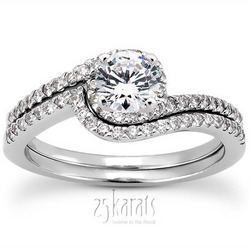 Online Bridal Jewelry Professionals
New York City, NY (PRWEB) September 14, 2010
The pinch of the recession has begun to lessen - but that doesn't mean that demand for affordable yet high-quality diamond jewelry has abated.
25karats.com has recently launched their new "Engagement Rings Petite Collection", which is aimed at giving consumers more choice in affordable yet designer-quality jewelry. The "Petite Collection" offers delicate and sleek designs with a range of smaller sizes for diamonds and thinner bands. Fans of 25karats.com will be pleased to see that the Petite Collection - which has already generated significant online buzz - maintains the online jewelry store's tradition of superior diamond quality at a range of budget-friendly prices.
Couples can browse through a wide variety of new diamond engagement rings and wedding bands from the "Petite Collection" without crunching their credit.
Jewelry experts are predicting that the 25karats.com's "Petite Collection" will be a major hit, with overall sales increasing by an estimated 20 percent.
"The state of the economy has significantly reduced the buying power of the majority of consumers," says Matt Aksu, CEO. "With this new collection, 25karats.com can continue to offer the best designs at affordable prices."
In fact, more consumers than ever have experienced a direct reduction in their buying power, meaning that exorbitant jewelry purchases have quickly become a thing of the past. But that doesn't mean that individuals looking for the engagement ring or wedding band have to sacrifice quality for quantity.
In addition to factory-direct prices, 25karats.com also offers unparalleled customer service and free appraisals by a GIA gemologist. Choosing a diamond ring or wedding band from the Petite Collection doesn't end with the purchase; the customer service team at 25karats.com is with its clients from the moment they purchase their diamond jewelry to long after they change their sweetheart's life. A thirty-day return policy also ensures that customers can take their time deciding if their new purchase is just right for them.
About 25karats.com:
25karats.com was established by a team of experts with many years of experience in both jewelry industry and e-commerce with a simple goal of providing the best online jewelry shopping experience for their customers. By controlling their sourcing, manufacturing, and product distribution, 25karats.com can bring fine jewelry to the public at affordable prices while raising the quality bar on the competition.
25karats.com has offices at the heart of Manhattan's Diamond District, which allows for immediate access to some of the best resources in the jewelry industry, both locally and worldwide.
###