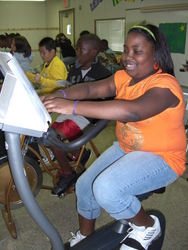 Students love active learning!
Winston Salem, NC (PRWEB) September 15, 2010
Students at Ward Elementary School are excited to share their "Read and Ride" program with schools around the world. What could be more fun than students riding exercise bikes while reading fun magazines and books? Since most schools are looking at major cutbacks, new programs are not what they are looking for right now. But the Read and Ride program is 100% free. All exercise bikes and magazines are donated from members of the community.
30 exercise bikes were collected from around Winston-Salem and filled an empty classroom for teachers to sign-up for 15-minute periods throughout the day to bring their students to Read and Ride. There were enough bikes so each student has their own bike to ride while reading a fun magazine or book. Some teachers brought their class every week, while others came on days with inclement weather when outside recess was canceled.
Many Goodwill and Salvation Army stores do not accept donated exercise bikes due to liability concerns, so these bikes end up filling closets, attics and landfills. With the national interest in helping children prevent childhood obesity, it was easy to generate media interest and support for collecting donated exercise bikes and magazines. Postings on Craigslist and Freecycle also helped spread the word for the needed donations. Ward Elementary received 41 exercise bikes in just over a month--with an estimated value of $5,125! After filling the Read and Ride room with 30 exercise bikes, 11 teachers decided to put the remaining bikes in their classrooms for students to ride when they completed their class work, as an incentive for good behavior, or simply to allow students an appropriate way to release some extra energy when needed.
Last school year, teachers brought their classes so every student could ride their own exercise bike while reading and the students pedaled a total of 5,650 miles! This year, the school goal is 10,000 miles.
Schools from around the country heard about Ward's new program last year and 6 schools have started their own "Read and Ride" programs--even from Florida, Texas and Washington state. First Lady Michelle Obama's Let's Move initiative to prevent childhood obesity has inspired many school leaders to generate ways to encourage more active learning. Students and staff at Ward have been excited to receive 2 phone calls from the White House inquiring about the Read and Ride program.
Data from the Read and Ride program showed that the 3 classes who visited the Read and Ride room the most last year had the highest average Reading Comprehension scores in the school--averaging 83% proficiency on the Reading End-Of-Grade test, compared to the other classes' average of 61% proficiency. In addition, on a reading interest survey, students were asked if they liked to read. The 3 classes that visited the Read and Ride room the most answered "Yes" 89% of the time, compared to 72% who answered "Yes" for the rest of the school.
Over 3,700 people from 92 countries around the world have viewed the Kids Read and Ride website. Information is available on the website for schools to start a Read and Ride program for free, while also providing a free template to use as a flyer and press release. Students have been able to learn geography through Google Analytics, which tracks the website visitors from around the world. View photos and watch video clips from local media coverage about the Read and Ride program where students and teachers share their experiences with reading and riding.
As the school counselor at Ward Elementary, Scott Ertl created the "Read and Ride" program as a way to help students become more active learners. Since starting the first "Read and Ride" program in the nation, he has quickly become the national "Read And Ride" Program Coordinator and he is excited to see more school leaders create active learning programs in their schools. Students at Ward take great pride in being the first school in the nation to have a "Read and Ride" program. His contact information is available on the Read and Ride website and he welcomes any questions and is generous to offer suggestions for starting new programs at other schools.
###