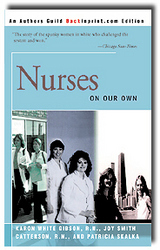 The Triumph and Tragedy of Restraint...Lead, follow or get out of the way....Live, Love, Laugh and Dance ....
Chicago, IL (PRWEB) September 27, 2010
Now globally on Ustream.tv - Outspoken with Karon is the TV Show for the entire family. Discussions range from when to not "pull the plug" with a neurosurgeon to makeovers. Positive solutions in health care as various guests discuss topics such as iridology (reading the eyes to see what is happening in the body organs) to body ph and hair analysis for vitamin deficits and toxic excess in the body. Biochemists discuss behavior therapy with simple vitamin supplements. Innovative therapeutic products offer insight info positive solutions in health care and anti age products.
Nurses discuss care and techniques in rehabilitation, after surgical procedure care; social workers discuss patient advocates. An emergency doctor talks about parenting. A reflexologist shows how pressure can help organ circulation and an acupuncturist shows needle therapy. Street Savvy Safety Tips are show by two former Chicago Police Detectives as an anti crime CPR on how to avoid becoming the target of crime. Book authors showcase their topics, lawyers talk about wills and trusts. A holistic dentist discusses mercury poisoning and toxins and how to alleviate toxic dental problems. Hair experts show styles, color and care.
Karon elicits information not often shown in the spotlight of the media benefiting Seniors, Parents, Teens, Men and Women. Autism is discussed with and treatment information on exercise and personal training as well as special dietary suggestions. Pacemakers and Cardiology, Neurosurgery and Orthopedics and Intraventional Radiology for less invasive tumor treatments is shown and hip and sports injuries are discussed.
Americantvproductions.com
AmericaNurse.com
TVnurse.com
Email: Asktvnurse(at)yahoo(dot)com
See our intro video at our website and check out referral information on the site. Affordable hearing aids are also featured for mail order.
# # #