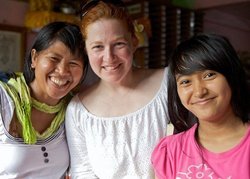 People who ran into her after the trip said she looked ten years younger.
Las Vegas, NV (PRWEB) September 14, 2010
Long before the movie came out, the best-selling Eat Pray Love struck a chord in millions of women, many who wrote to author Elizabeth Gilbert to tell of their own spiritual or matrimonial crises. While Gilbert advised that they needed to find their own way, many didn't take heed – they still wanted to duplicate her awakenings – or find the man of their dreams. While they may not be able to hop in the sack with Javier Bardem, what they will find on Spirit Quest Tours' Eat Pray & Love Bali tour is a powerful spiritual adventure. While discovering a lost or missing part of themselves. they will also eat delicious local cuisine. learn to pray like the Balinese Hindus, and experience what Gilbert truly found: love of herself.
"Every woman we know is seeing this movie, and many are seeing it more than once," said Greg Roach, founder of the Las Vegas-based boutique travel company, which ran their first Eat Pray & Love Bali last May. "Hundreds of people have contacted us about traveling with us to Bali, or Egypt, or one of our other destinations. They're all seeking to better themselves."
The first Eat Pray & Love Bali spiritual tour included many opportunities for self-examination and growth, which were the major themes of the book. Daily Eat Pray Love readings helped put people on the path, as did optional meditation, yoga and journaling. The group, mostly women, bonded tightly and really opened up to each other. A self-proclaimed workaholic found balance. A chronic insomniac suddenly was able to sleep. "The shifts are really remarkable for the guests on all our trips," said Roach. "We've seen people heal huge problems in their lives, or step up to the next level by embracing a long-held dream or goal. On our first Bali tour, a woman moved past the long-held pain of a divorce from years earlier. It was so powerful she decided on the spot to take back her maiden name. People who ran into her after the trip said she looked ten years younger."
Spirit Quest Tours' founder, Greg Roach, hardly seems like a man on a mission. Looking more like Stephen Spielberg than Deepak Chopra, Greg started Spirit Quest Tours to help people experience the awakenings of self he did on his first trips to Egypt. But after years of tours to Bali, Egypt, China, and all over Europe, the unique company was a well-kept travel secret until fame arrived in the form of that first Eat Pray & Love Bali tour. Now attention from Time Magazine, USA Today, Good Morning America, ABC News, and many others have shifted his focus to larger intentions.
"We want to bring the world our brand - we are developing a global spiritual travel TV show, my partner Halle Eavelyn (who leads the Eat Pray & Love Bali tours) is writing a travel memoir about her own spiritual awakening in Egypt - we want to help Americans to reach out and connect with the world, to help them wake up to their deeper purposes, not just their daily routines and jobs."
So is Julia Roberts leading the next Bali trip? Not likely. "Onscreen, she shows us what Liz Gilbert went through. For each person on our tours we want them to focus on their own spiritual growth and experience, set in one of the most beautiful environments in the world: Bali. Each of our guests gets to star in their own movie, and we know the changes will continue long after the last frame."
ABC News said: "Perhaps your money is best spent on the "Eat Pray Love" vacation package to Bali."
Time Magazine said: "The idea behind these [Spirit Quest Tours] offerings is not to knock off a checklist of the people and places the writer visited, but to partake... in her progress."
USA Today said: "EPL already has drawn fans of the 2006 best seller to Bali, a mystical island known for its natural beauty, vibrant arts community, colorful religious festivals and gentle, hospitable residents."
Click here for More Articles on Spirit Quest Tours
One of our recent Bali guests said: "Thank you again for making the trip such a delightful, inspirational & life-changing experience."
One of our recent Egypt guests said: "Passion like yours is unfortunately rare, and witnessing it was an unexpected gift from the trip. Thank you, thank you."
Click here for Rave Testimonials about our tours
###