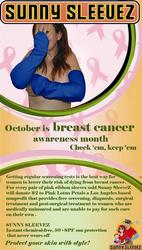 For many women, especially those with young children, looking after their own health frequently becomes a low priority when it should be at the top of the to-do list!
Los Angeles, CA (PRWEB) September 28, 2010
Just in time for October's Breast Cancer awareness Month, Sunny Sleevez (http://www.sunnysleevez.com) revealed their latest 'Pink Ribbon' range of Sleevez. These products not only provide instant UV protection for arms and top of hands but also act as a timely reminder to women of the importance of regular breast examinations, both self and medical.
To highlight this message audacious Sunny SleeveZ creator Dashiel St. Damien appears modeling the new range wearing nothing but a pair of her patented sun sleeves!
Several months after a friend was diagnosed with breast cancer after find a lump during a self exam, Dashiel realized she still hadn't scheduled her regular breast exam, "in fact", she states "despite getting daily updates of my friends "worst nightmare" diagnosis, followed by her struggle to receive life saving treatment, I hadn't even managed a self exam. I need a reminder and a blunt one!"
For many women, especially those with young children, looking after their own health frequently becomes a low priority when it should be at the top of the to-do list!
Getting regular screening tests is the best way for women to lower their risk of dying from breast cancer. Screening tests can find breast cancer early, when it's most treatable
The new SleeveZ have the iconic Pink Ribbon, they also come with tags that bare the legend "Check 'em, Keep 'em"
Additionally for every pair of pink ribbon sleeves sold (available in pink., blue & white, priced at $24.99) Sunny SleeveZ will donate $2 to Pink Lotus Petals, a Los Angeles-based non-profit, that is exclusively dedicated to the prevention, screening, diagnosis, surgical treatment and post-surgical treatment of breast cancer. Pink Lotus Petals does not invest in studies or research for a potential future cure for breast cancer - instead, the organization dedicates itself exclusively to helping uninsured, underprivileged, and low income women who desperately need care
About Sunny SleeveZ
Mother of 2, freckly red head Dashiel St. Damien arrived in LA from her native London & quickly realized she needed more than a bit of sunscreen to prevent skin cancer & wrinkles. Dashiel explains "I did some research & discovered that Sunscreen takes up to 20 minutes to start working, has to be reapplied every 2 hours & almost all do not provide the protection they claim! Additionally according to the EWG the top Sunscreens may accelerate skin cancer & use the hormone-disrupting chemical oxybenzone, which penetrates the skin and enters the bloodstream".
Frustrated by the lack of products on the market that would give instant sun protection for her arms & top of hands, she set about creating and patenting the 50+SPF/UPF fabric Sunny Sleevez.
Putting an end to the sticky goop on the steering wheel, putter or clothing Sunny SleeveZ proved to be an instant hit with drivers, cyclists , golfers, runners, amongst those with skin conditions. They come in a wide array of colorful, fresh designs that everyone loves!
Sunny Sleevez are not just for adults, Dashiel also created a range of Sunny SleeveZ for kids which have been a big hit with moms who are thrilled to end the daily 'sunscreen battles" when constantly applying, messy chemical sun block only to have it end up in their kids eyes and mouths.
Skin cancer is the most prevalent form of cancer in the United States today. It takes only about 11 minutes of exposure to do irreparable damage to the skin cells. "I used my children and their friends for their brutal honesty when developing Sunny Sleevez. They are the ones that let me know exactly what was cool and what was not."
With designs featuring flames, skulls, animals & even 3D butterflies and dinosaurs, being sun safe has never been so cool!
Sunny Sleevez is passionate about the environment,. Dashiel explains that "we are aiming to be carbon neutral in 2011, we already use energy efficient appliances and light bulbs, fit low flow filters on faucets, print with water based inks, recycle the water used to clean screens to irrigate surrounding landscape, limit packaging, we even free-cycle left over fabric scraps &
compost dryer lint & thread!
Sunscreen in the ocean is a contributor to coral reef damage; reducing the amount of sunscreen used also means fewer bottles going to landfill. Sunny Sleevez donates to " Oceana.org" & the Environmental Working Group.
Sunny Sleevez come in 6 colors and more than a dozen colorful designs that everyone loves! Kids SleeveZ are priced at $14.99 , Adult Sleevez at $24.99
"Slip them on in the sun. Slide them off when you're done!"
Sunny Sleevez:
Sunny Sleevez are chemical free, fabric-based sun blockers that adults, children and babies simply love to wear. They provide SPF 50+ levels of protection from harmful ultraviolet rays in colorful, exciting style. Sunny Sleevez is a Los Angeles based company founded by Dashiel St. Damien, a mother who was very concerned about the toxicity, messiness and repetitive expenses associated with chemical based sunscreens. Sunny Sleevez provides an entertaining and green solution that allows people of all ages to safely enjoy the great outdoors. To find out more about Sunny Sleevez please visit http://sunnysleevez.com.
###