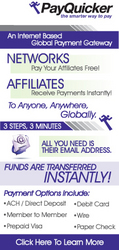 [PayQuicker's] payment options make it possible for networks to streamline the affiliate payout process, get their commissions into the hands of the affiliates faster, and do so at a significantly reduced cost.
Rochester, NY (PRWEB) September 15, 2010
LinkTrust, a software solution that powers affiliate marketing networks, and PayQuicker LLC, a global online payment solution, have announced an exclusive integration. LinkTrust will offer PayQuicker to their clients allowing them to simplify and streamline payment processing. PayQuicker's global payment platform with exclusive fraud protection tools offers Affiliates and Publishers a new level of flexibility and speed in receiving and managing their commissions.
LinkTrust is known as the most advanced tracking and management technology solution available to affiliate networks, and they continue to see growth as a result of their innovations. LinkTrust's advanced software powers more than 150 affiliate ad networks and merchant affiliate programs. LinkTrust identified that their clients required more advanced payment processing options, and decided to integrate PayQuicker to meet that need. Due to LinkTrust's breadth of influence, this integration will provide new options to many companies.
"The integration of PayQuicker into LinkTrust will help our clients offload one of their most tedious and time-consuming tasks," said Bret Grow, LinkTrust president. "The availability of these new payment options will make it possible for networks to streamline the affiliate payout process, get their commissions into the hands of the affiliates faster, and do so at significantly reduced costs."
PayQuicker, "The Smarter Way to Pay," is a global online payment processing solution tailored to support affiliate marketing. PayQuicker has pioneered a unique technology that allows for flexible, fast, and low-cost funds management and distribution. All parties involved in the affiliate marketing channel require interaction with payments, commissions, and bounties. PayQuicker allows networks, publishers, and merchants to exchange and utilize funds quickly and cost-effectively through a user-friendly interface and advanced technology.
PayQuicker supports no cost payments to its member recipients and also allows for a single file upload of multi-transaction batch payments to thousands of recipients at no additional cost. PayQuicker users can receive payments in any way they choose, including: debit card, direct deposit, wire transfer, paper check, member-to-member transfer, and more.
"LinkTrust is excited about the integration with PayQuicker because we recognize their platform's flexibility in offering a variety of payment options," said Grow. "Many other payment platforms offer debit and electronic methods, but PayQuicker allows networks to continue to use these methods of payment while automating the entire process and also offering a number of other preferred options, including electronic funds transfers, paper checks and free member-to-member transfers. Ultimately, PayQuicker's batch payment system offers unheard of flexibility and speed while greatly lowering costs."
PayQuicker satisfies the needs of large affiliate networks and programs because the fee structure is flat, not percentage-based. This gives networks dealing with very large amounts of compensation the ability to drastically reduce the costs associated with payment processing. The integration also enables LinkTrust to offer a global payment feature to their clients. Funds can be transferred in the default U.S. dollar or converted to the native destination currency at the current published conversion rates through PayQuicker. Additionally, PayQuicker supports LinkTrust's efforts to reduce industry fraud through the use of proprietary analysis tools specifically designed for this purpose.
"LinkTrust's integration with PayQuicker marks a long-overdue advancement in online payment processing," said Paul Beldham, Pay Quicker CEO. "Until now, online platforms have been expensive, problematic, and limiting. The integration decision identifies that PayQuicker has successfully introduced a solution that meets the demands of affiliate marketing and supports the complexities of online commerce. "
Both companies are looking forward to a strong relationship that will help ad networks and merchants streamline their businesses.
To learn more about PayQuicker, visit PayQuicker.com.
To learn more about LinkTrust, visit LinkTrust.com.
###