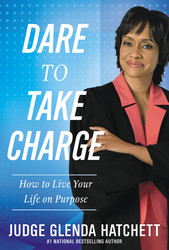 Brentwood, TN (Vocus) September 14, 2010
Judge Glenda Hatchett has seen more worst-case scenarios than the average person. As she metes out judgment from the bench of her televised courtroom, she witnesses tales of unimaginable heartbreak and strife. But this experience, coupled with her years as Chief Presiding Judge of the Fulton County Juvenile Court and Delta Air Lines litigator have also taught her that it's possible for people to inject possibility into painful situations. Hatchett uses this powerful, inspiring phenomenon as the basis for her newest book, Dare to Take Charge: How to Live Your Life on Purpose.
In Dare to Take Charge, Hatchett presents cases of real people who were ensnared in seemingly impossible situations and yet learned to take charge and create fulfilling, positive lives. Much more than just a collection of inspirational stories, however, Dare to Take Charge is also a commonsense guide for readers looking to carve out their own paths toward their dreams. With practical exercises, writing prompts, tips and daily strategies, Dare to Take Charge shows readers how to work toward their ultimate objectives, through life lessons that include:

What it means to be daring and intentional when seeking your ultimate objectives
How to bridge the dream gap and more closely align your daily activities with your goals
Why pursuing hope is a powerful choice—and how to do it
The dangers of a rigid life plan, and how to recalculate objectives when necessary
The importance of guilt and the surprising way you can use it to your advantage
How to intentionally incorporate your passion into your actions and decision-making
Why the past is no prison and how to claim healing so you can overcome it
How to stop destructive patterns and make short-term sacrifices to meet long-term goals
How to transform the opportunity of every day into the opportunity of a lifetime
Packed with powerfully uplifting stories—and a few heartbreaking instances of lives gone awry—told in Hatchett's refreshingly frank, no-nonsense style, Dare to Take Charge is a dare to readers everywhere to live their lives on purpose. Even in the midst of personal setbacks like layoffs, emergencies, divorces, insufficient income and family crises, readers will find that Hatchett's practical strategies, tools and principles offer an inspiring and interactive way to redefine their life goals and find the path toward true fulfillment.
About the Author:
Glenda Hatchett presides over the Emmy-nominated syndicated show Judge Hatchett. A graduate of Mount Holyoke College and Emory University School of Law, Hatchett has also served as Chief Presiding Judge of the Fulton County, Georgia, Juvenile Court as well as senior attorney for Delta Air Lines. A passionate advocate for parents, children and families, Judge Hatchett also operates Parent Power Now, a global social networking site for parents and influencers of children.
Dare to Take Charge
Glenda Hatchett
Center Street / September 20, 2010
9781599953304
272 Pages/ $23.99
###