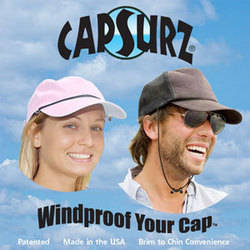 Canoe trip to Lac La Croix in the BWCAW was very windy. Capsurz is the only reason that I still have my pink camo ball cap! Lynn, Ely, MN
Woodstock, IL (PRWEB) September 28, 2010
As just seen on Rachael Ray and featured as a finalist in the Pepsi Refresh Gulf Good Idea Contest, Capsurz has updated product performance testing. Outdoor enthusiasts rely on their hats for sun protection. Millions of hats and caps are sold every year to folks who boat, sail, bike, hike, fish, paddle, run, garden, and ride in convertible cars. And millions of caps succumb to the wind, littering our roads and waterways, leaving outdoor enthusiasts sunburned and sad. What good is wearing a cap if it blows off your head?
Adding a Capsurz will keep your cap on. Manufactured in the USA, Capsurz is the only patented cap accessory cord that retrofits to any cap or hat to keep your cap on, hands free! Capsurz is wind-tested to 75 MPH and roll-tested for water submersion.
Cap-wearing outdoor enthusiasts embrace the brim to chin functionality of Capsurz.
Boaters, bikers, anglers, hikers, paddlers, runners, gardeners, and convertible drivers keep Capsurz on their brim, always ready for windy conditions. And always confident of not losing a favorite cap!
Match, contrast, personalize, promote a message: Capsurz adds functionality and style to any cap or hat. Windproof your cap at http://www.capsurz.com.
About Capsurz | Eric Neumann, Inventor
The Capsurz story began at Pearl Harbor, Hawaii in 2000. Inventor Eric Neumann and his partner, Mari Baskin watched as strong winds blew the hat off the head of a fellow tourist. The hat landed directly over the remains of the USS Arizona in full view of a sign prohibiting throwing anything into the water. As tourists in windy Hawaii, Eric and Mari continued to be bombarded with the inability to keep a cap on. Eric decided to develop an accessory that would retrofit to any cap or hat to suit the preferences of all outdoor enthusiasts. Within several weeks, the patent process for Capsurz® was underway.
Capsurz® is a patented invention and registered trademark of Para Designers Inc.
###