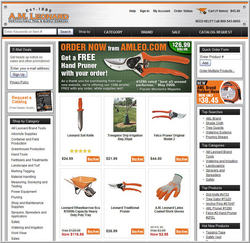 Integration with our new backend ERP system was a critical part of our new ecommerce website strategy
Cincinnati, OH (Vocus) September 15, 2010
D.M.insite, a company that specializes in developing and delivering ecommerce Software as a Service (SaaS) for retail and mail order catalog companies across the nation, today announced that it has launched a new ecommerce website for A.M. Leonard, a leader in the horticultural tool and supply business, that includes a back office software integration with Sage ERP X3, one of the world's leading suppliers of business management software and services.
A.M. Leonard first introduced Sage ERP X3 into its operations in early 2007. The system, which offers first-class integrated functionality for finance, sales, CRM, inventory management, purchasing and manufacturing, proved instrumental in facilitating seamless real-time tracking of orders from entry into the system through to final delivery.
To extend its operating efficiencies and capabilities even further, A.M. Leonard set out to find a new ecommerce platform provider. A.M. Leonard engaged D.M.insite in late 2009 with a critical objective of implementing a newly designed, top-performing ecommerce website that fully integrated with its new backend ERP system. Through a strategic introduction from A.M. Leonard, engineers from D.M.insite and Sage immediately began collaborating on a comprehensive connectivity and data integration strategy between Sage ERP X3 and the D.M.insite Mercury Platform.
"Integration with our new backend ERP system was a critical part of our new ecommerce website strategy," said Gregory Stephens, president of A.M. Leonard. "Having smooth integration with our in-house management system allowed us to take online ordering to an all-new level. We no longer have to hand-enter hundreds of daily website orders into our fulfillment, warehouse and order management systems. That's especially exciting for our customers who can now get an even better service and faster order response when ordering from us."
At the core of A.M. Leonard's website upgrade was the desire to make it easier and a much better experience for customers to order online. That meant every connection from http://www.amleo.com to existing internal business systems had to work both within the ecommerce application and throughout the company. The connectivity had to be easy to maintain and not require ongoing deployments or mending with every technical change.
"Delivering an exceptional customer experience, both for A.M. Leonard and for their online customers, is a key goal for Sage. We recognized that a smooth integration with the Sage ERP X3 software was a critical part of A.M. Leonard's ecommerce platform deployment, and we were committed to taking all the necessary steps to make that process as seamless as possible for them," said Alex Attal, General Manager for Sage ERP X3 at Sage. "Working in partnership with D.M.insite has allowed us to create a standardized development and integration toolset that facilitates quick and hassle-free integration with our software. The result is a reliable, resilient and adaptable real-time data flow between the ecommerce and ERP software applications."
http://www.amleo.com features an all new site design and navigation coupled with textbook data integration that is a showcase for a high performing ecommerce solution.

Real-time site inventory that provides shoppers with accurate inventory of items, plus gives A.M. Leonard the ability to track and trace inventory and other items to remain compliant and competitive
Customers have access to see a complete history of all the orders—both online and offline—placed with A.M. Leonard
Business processing efficiencies through the elimination of data entry of hundreds of daily online orders for fulfillment and inventory management
Dynamically updated site navigation based on product categorization, which makes it a cinch to highlight featured categories, such as the A.M. Leonard Brand Tools
Merchandising specifically designed for the business shopper, such as single-page entry for multiple product purchases
Site navigation and features that make it easier for customers to find what they want fast and place orders quickly and effortlessly
"Providing A.M. Leonard with an ecommerce platform solution that allows them to concentrate on serving their customers and not the manual entry of orders removes an enormous obstacle for their future growth," said Larry Kavanagh, CEO of D.M.insite. "I'm grateful to A.M. Leonard for the introduction to Sage ERP X3. The successful integration of our two products is an outstanding ecommerce solution offering that not only positions A.M. Leonard well to skyrocket their online business, it's a fully integrated ecommerce and ERP solution that will benefit many mid-to-large multichannel merchants in the industry."
About D.M.insite™
D.M.insite develops and delivers its ecommerce Software as a Service to retail and mail order catalog companies across the nation. The D.M.insite Mercury Platform™ is the company's flagship ecommerce software that gives clients unprecedented freedom to manage their own sites and grow their online business at a rate that's more than double the industry's average. The platform gives merchants the flexibility previously found only in custom code, while providing a stable platform to which D.M.insite adds new selling features each month.
The company also offers D.M.insite Mercury Mail™, its email marketing software that has the best built in practices for segmentation, email automation and email deliverability. Mercury Mail operates seamlessly within the Mercury Platform and as a standalone email-marketing tool.
D.M.insite is located in the greater Cincinnati area and has a technology office in Cupertino, California. To learn more, visit http://www.dminsite.com or call 859.261.8700.
About A.M. Leonard
For over 125 years, A.M. Leonard has adhered to two basic principles: exceptional service and quality. These values have become the company's hallmark.
It is through its unwavering focus on providing exceptional products and service that have allowed A.M. Leonard to expand its business from what started as a nursery in a backyard business in Piqua, Ohio, to an industry leading horticultural tool and supply business operating out of a 100,000 square foot state-of-the-art distribution facility with more than 100 dedicated employees.
The Piqua based catalog and merchandising powerhouse remains steadfast in providing its ever-growing list of customers—ranging from growers, landscapers, foresters, arborists, contractors, golf courses, resorts, grounds management to gardeners—with excellent service, product dependability and fast order response through its many retail outlets. Customers can choose from a selection of over 7,000 quality products found on the company showroom floor, through A.M. Leonard's Gardeners Edge, the company's unique retail publication for the serious home gardener, and on any of the company thriving ecommerce websites, including Amazon.com.
A.M. Leonard also offers an exclusive Corporate Account Program that provides professional customers with dedicated account management services, and its own line of A.M. Leonard Brand Tools that offers the quality and features that most manufacturers aren't willing to make.
A.M. Leonard understands customers have a choice on where to shop and pledges to continue its tradition of exceptional products and service. For more information, visit http://www.amleo.com.
About Sage North America
Sage North American delivers easy-to-use, scalable and customizable software for accounting, CRM, HR, merchant services, time-tracking, as well as full-service ERP solutions for integrated manufacturing, distribution and financial management such as Sage ERP X3.
Sage ERP X3 is a fully integrated Enterprise Resource Planning (ERP) solution designed to meet the advanced business requirements of mid-to-large distributors and manufacturers. The system offers first-class integrated functionality for finance, sales, CRM, inventory management, purchasing and manufacturing, while remaining affordable, quick to implement and simple to use. Scaling up to more than 1,000 concurrent users and with built-in multinational capabilities, Sage ERP X3 offers the flexibility to manage growing businesses in a global economy.
Sage North America employs 4,000 people and supports 3.1 million small and medium size business customers. The Sage Group plc, formed in 1981, floated on the London Stock Exchange in 1989 and now employs 13,800 people and supports 6.2 million customers worldwide.
For more information about Sage in North America, please visit the corporate Web site at http://www.sagesoftware.com or call 866-308-2378.
For more information
Annette Schloemer
859.547.5521
aschloemer(at)dminsite(dot)com
###