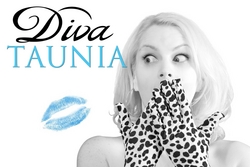 "The fact that I can even move my body enough to complete the Walk From Obesity is testament to how dramatically improved my life is after surgery. Before gastric bypass, I could barely more around my house, never mind walk more than 10 ft!" -Diva Taunia
Lowell, MA (PRWEB) September 15, 2010
Two of YouTube's most popular weight loss surgery personalities are now teamed up as part of the National Walk from Obesity event happening on Saturday, September 25th in Lowell, MA. Together, they've lost over 300 lbs through gastric bypass surgery, and are two of the most popular personalities within the Weight Loss Surgery Community, representing New England as part of "Team Melting Mama." "Diva Taunia" and "Melting Mama" know each other well from their online websites, forums, and radio show, although they'll only be meeting in person for the first time at the Walk for Obesity. Both have found a following via YouTube and their personal weight loss surgery blogs, and often work together on Diva Taunia's radio show and through their various online social networks. This is Diva Taunia's first walk, and she is joining Melting Mama's annual walking team to help raise funds and awareness about obesity.
Beth, otherwise known as "Melting Mama," is from Plymouth, MA. She had RNY gastric bypass surgery on May 5, 2004 and has maintained a loss of over 150 lbs. Beth is the creator and popular voice of the Melting Mama blog, along with her Bariatric Bad Girls Club, and an additional site called Weighty Secrets. Her bariatric product reviews are often a first-stop for patients before purchasing, and her sarcastic and witty humor has gained her a devoted and loyal audience.
Taunia, known online as "Diva Taunia," is a Nashua, NH resident. She had RNY gastric bypass surgery on 3/25/08, and she has maintained a loss of over 160 lbs. In addition to being a professional jazz vocalist, she is also a radio host for the weekly Backstage Pass Radio Program, which broadcasts live every Monday from Nashua, NH and focuses on weight loss surgery post-op life. She was also recently named the Vice President of Public Relations for The Weight Loss Surgery Foundation of America, and maintains an active weight loss surgery-related blog that highlights life and "image" after weight loss surgery. The day of the walk just happens to be Diva Taunia's 2.5 year gastric bypass anniversary.
In cities across the United States, individuals affected by obesity, their family members and friends, healthcare professionals and many others come together and proudly walk to raise awareness of the disease of obesity, childhood obesity and morbid obesity in the annual Walk from Obesity. Melting Mama and Diva Taunia welcome other New England walkers to join "Melting Mama's Bariatric Bad Girls" and walk with them on September 25th. Donations towards the walk are also being accepted on both websites.
For more information about Melting Mama, Diva Taunia, or the Walk from Obesity, please visit http://www.meltingmama.net or http://www.divataunia.com. For more information about weight loss surgery, please visit http://www.wlsfa.org.
###