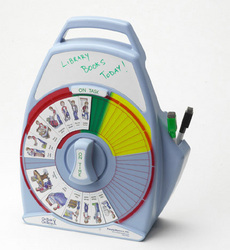 On Task On Time for Kids is an invaluable tool for fostering independence and making the morning routine smoother.
Cupertino, CA (PRWEB) September 28, 2010
Timely Matters, Inc., developer of the On-Task On-Time for Kids portable timing system, today announces its Internet sales to time-challenged families throughout North America have exceeded 1,000 units. This is no small feat considering the time management tool's inventor -- a mother of triplets plus one -- single-handedly fulfills every order. Moschel Kadokura can identify not only with Silicon Valley's entrepreneurs but also with every parent struggling to get their child back into the school routine. That her time management system restores calm to otherwise manic "hurry up and get ready" morning and evening routines is welcome news being spread among parents of young children.
"Too often people believe good organization is something you either have or don't," says Alison Barnsley, professional organizer and owner of AAB Design in Mountain View, Calif. "But being organized is a process, not an end goal. Developing routines and good habits requires practice. I highly recommend On-Task On-Time for Kids to my clients with young children." Barnsley, who has used On-Task On-Time with her own children, says the time management system is an invaluable tool for fostering independence and for making the morning routine smoother. "It also reminds parents to avoid 'doing it for them.' These are skills your child needs to master."
Provides Clear, Brief Visual Reminders for Children Diagnosed with ADHD
On-Task On-Time for Kids guides children (ages 5 through 12) through the daily transition periods of sleep to school, school to home and from family time to bed. Daily routines promote stability by letting children know what is going to happen next and what they are expected to accomplish. Kadokura knows this well as she instituted the time management system when her triplets (now college seniors) were in kindergarten. Taking her homemade timing tool the next step, Kadokura mass produced and first sold the On-Task On-Time for Kids system in 2007, when her fourth child entered third grade. It was an immediate hit with parents in her son's elementary school, and through Internet sales has shown increasing popularity. Kadokura says she hears from many parents whose children have been diagnosed with Attention Deficit Hyperactivity Disorder (ADHD), Attention Deficit Disorder (ADD) or are on the autism spectrum.
"They are looking for a home system that provides the structure and visual stimulus to help overcome their child's challenge of focusing on his or her routine," Kadokura explains. "On-Task On-Time for Kids is successful with them because of the step-by-step task structure that is tied to the visual passage of time. It has really helped relieve the stress that these parents face with children and focus issues."
Back-to-School Companion
On-Task On-Time is a portable time management system that uses pictures and colors to help kids pinpoint what task they are completing, what has already been accomplished, and what is next to be done. Parents are freed from nagging while their children feel the confidence of completing routines on their own. Parents and children place the colorful task stickers on a routine disk, which is then mounted on the timing unit. As the routine disk moves, kids can see exactly what they should be doing by the task sticker that appears on the timer. After setting the timer themselves, children can carry it around the house while doing the tasks that are shown. Three routine disks are included for division of morning, afternoon and evening tasks, and there are 52 task stickers to set up the routines.
To purchase or see a demonstration of On-Task On-Time for Kids, please visit the Timely Matters, Inc. website: http://www.timelymatters.com. For more information, please contact Moschel Kadokura at (408) 446-4242 or mk(at)timelymatters(dot)com.
###