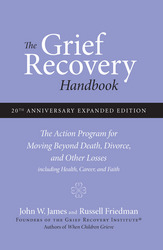 Mis-diagnosis of grief-as-depression and the dangerous overuse of prescription meds turns grievers into the "walking wounded."
Sherman Oaks, CA (PRWEB) September 15, 2010
In response to a proposed new guideline in the DSM V (Diagnostic and Statistical Manual of Mental Disorders), John W. James and Russell Friedman, principals of the Grief Recovery Institute in Sherman Oaks, California, like Peter Finch in the film Network, are "madder than hell"and they're not going to take it anymore.
Friedman says, "The proposed changes in the DSM V would allow a dangerous diagnosis of Major Depressive Episode (MDE) to be applied to a grieving person within two weeks of the death of someone important to them.
"The diagnosis carries the high probability that powerful drugs will be prescribed, which in most cases will inhibit the grievers' access to the normal, natural, and healthy emotions of grief. The drugs may temporarily dull the emotional pain, but will do nothing to help those grievers discover and complete what was left emotionally incomplete for them by the death."
"Grief is the normal and natural reaction to loss of any kind," says Institute founder, John W. James. That is the opening sentence of 'The Grief Recovery Handbook,' James' and Friedman's benchmark book, which in its 20th Anniversary Edition, is approaching sales of a million copies.
James continues: "I've been helping and advocating for grieving people, since the death of my three day old son in 1977. I've watched the medical and psychological communities continue to diagnose grief as a pathological condition or a personality disorder for far too long. For years, we've just gone about our business of helping grievers and training people who want to help, and let the medical and psychological folks do what they're going to do, even though we know how dangerous it is. But I've worked too hard for too long to let this pass."
Over the past 30 years, working with thousands of grieving people, James and Friedman have seen the ravages caused by the immediate pathologising of grief. They've witnessed widows and widowers, grieving parents, and others turned into zombies by inaccurate and unnecessary diagnoses of grief-as-depression, and the prescribing of psycho-pharmaceuticals which only serves to cover up the grief.
ACCEPTING PATIENT'S SELF-DIAGNOSIS AND DOLING OUT INAPPROPRIATE TREATMENT MUST END
"Medical doctors receive no formal training in the identification of unresolved grief, nor any training in what to do to help grievers. Therefore drugs are the only tool they can think to apply," says James. "In fact, we know that a huge percentage of grieving people, following the death of someone important to them, tell their physicians that they feel 'depressed.' The overly accommodating physician, untrained in the emotions of grief, allows and accepts the patient's self-diagnosis, and immediately prescribes an anti-depressant medication. When they finally call us at the Grief Recovery Institute a year later, they are often buried inside the chemistry set of medications that have reduced them to what can best be called the 'walking wounded.'
"It's a tragedy that doctors can and do mis-diagnose and mis-treat grievers with psycho-pharmaceuticals, and don't even recommend any kind of talk therapy or grief recovery guidance. It will be compounded exponentially if the proposed DSM V guidelines become a reality and new grievers' normal reactions to a death can be diagnosed as Major Depressive Episodes by anyone with a mental health license.
"Our objective is not to attack the medical, psychological, or even the psycho-pharmaceutical industries. It is to educate them and to advocate for grieving people and promote what would be of the greatest help to them at their time of need. But if we have to take aim at those industries to protect grievers, then we will."
"During my first ten years at the Grief Recovery Institute," adds Friedman, "I spoke to an average of 20 grievers every day, five days a week, fifty weeks a year. Do the math and you'll see that's 5000 grievers a year. That means I learned an awful lot about what's true and what's not about grief, directly from the mouths and hearts of those grieving people."
With that in mind, James and Friedman are advocating that you join them in supporting the efforts of Allen Frances, MD. Dr. Frances was chair of the DSM-IV Task Force and of the department of psychiatry at Duke University School of Medicine, Durham, NC. He is currently professor emeritus at Duke. Here's a headline, a blurb, and a link to his Psychology Today blog from August 21, 2010:Good Grief vs Major Depressive Disorder "On August 15, I published an op-ed piece in the New York Times expressing the view that normal grief is normal and should not be confused with Major Depressive Disorder (MDD). The DSM 5 suggestion to remove the bereavement exclusion for MDD would convert grief after losing a loved one into mental disorder." Read More
We urge everyone who shares our concern to read Dr. Frances' article, and then contact David J. Kupfer, M.D., DSM-5 Task Force Chair and Darrel A. Regier, M.D., M.P.H., DSM-5 Task Force Vice-Chair at APA. Here's an email address: email: apa@psych.org and voice your concern.
We encourage you to visit our website, http://www.grief.net. where you will find a host of helpful articles on the topic of Grief Recovery., and our blog, Broken Hearts, at Psychology Today.
###