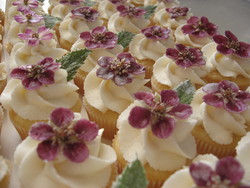 We make the flowers....You make the cake
Cleveland, OH (PRWEB) September 29, 2010
Crystallized Flower Company announces the release of two healthy flower varieties to its growing line: Strawberry Blossoms and Micro-mini roses
Organically grown, preserved and candied, the edible flowers are then used on wedding cakes, pastries, cupcakes, or any creative distinction and food presentation.
Through a patented process using only natural ingredients the flowers are preserved and candied at peak bloom. The crystallized flowers are free of chemicals and pesticides, are non-perishable, non-fat and almost nil of calories and have a shelf life of one-year.
"People today, are consistently looking for organic, healthy, exciting food alternatives," said Crystallized Flower Company founder, Karen Toocheck "we've found a green and delicious way to satisfy this growing demand."
In addition to the new releases, the Crystallized Flower Company is the first and only company in the world to offer the crystallized version of the Daylily Bloom. Studies have shown that several compounds found in Daylilies exhibit strong antioxidant properties, inhibiting lipid oxidation. Daylilies have been used in traditional Asian cuisine for centuries; the petals are important ingredients in hot & sour soup.
Other flower varieties offered through Crystallized Flower Co., are: Violas, Pansies, Snapdragons, Lavender, Miniature Roses, Mint leaves and Borage flowers. Many premier pastry chefs and at-home gourmets are discovering the beauty, distinction and delicious flavor of crystallized flowers. Crystallized Flower Company's confections have been featured in food and wedding photography, and are offered in select bakeries and retail locations as well as through direct sale.
For further information on crystallized flowers and the Crystallized Flower Company, please visit: http://www.crystallizedflowerco.com
###