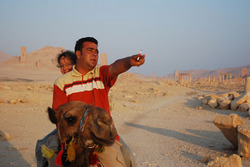 Santa Monica, CA (PRWEB) September 15, 2010
With the release of the movie Eat, Pray, Love, many people are examining their own lives in a new way. While most are living vicariously through the movie's main character, one woman actually lived her own political Eat, Pray, Love and documented her inspiring experiences in a recently-released Random House anthology and in her upcoming book Living Large in Limbo: How I Found Myself Among the World's Forgotten.
Author, political activist, and international traveler Kelly Hayes-Raitt used a mid-life loss to fuel her own journey to both self discovery and a renewed appreciation of the strength of the human spirit. Having overcome her initial reservations, she was rewarded with a richness of life that few ever experience.
Hayes-Raitt can tell your audience how they can live their own personal Eat, Pray, Love when she answers:

How can people really look at life and determine what their assets are?
In what ways does our "stuff" hold us back?
How can we change how we think about where "home" is?
What are effective ways to liberate ourselves from the fear of change?
How can people create a happy life in unfamiliar surroundings?
Credentials: For nearly 30 years Kelly Hayes-Raitt has been a passionate advocate for environmental protection, consumers' rights, educational opportunities, and affordable health care. Having been heavily involved in politics, she eventually ran for the California State Assembly, and lost, inspiring her to take a sabbatical from politics to travel through the Middle East. Her upcoming book, Living Large in Limbo: How I Found Myself Among the World's Forgotten, is a journalistic memoir about recovering from mid-life loss by volunteering in Iraq, Syria, Lebanon, Israel, the West Bank, and the Philippines. In the past 2 years her writing has won 5 awards and been published in the Random House anthology Female Nomad and Friends. Hayes-Raitt has appeared on over 500 radio and TV programs including CNN, Fox News, CNBC's Squawk Box, NewsHour with Jim Lehrer on PBS, CBS, KNBC-TV in Los Angeles, KTLA-TV in Los Angeles, Time Warner Cable's Week in Review, and KFWB News Talk 980 AM in Los Angeles.
Availability: Nationwide by arrangement, and via telephone
Contact: Kelly Hayes-Raitt, (310) 474-5545; hayesraitt(at)aol(dot)com; http://www.PeacePATHFoundation.org
###