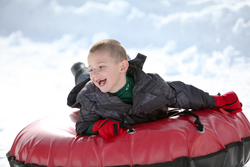 "Our 39 year old disabled son loves to ski. Now we can take his gloves off at lunch because ZipperBack Gloves are so easy to get back on his hands!" Maggie D. MI
Auburn, CA (PRWEB) September 15, 2010
More than 100% growth in their first year! This Mom Inventor recruited a manufacturer to produce these gloves, on their dime, to launch and grow a business in a down economy. After sitting at her kitchen table to create the first zipper back glove, she knew it was a winner. Kathy Partak believes the answer will always be "No" if you don't ask. Going into their second season on store shelves, retailers are calling them!
Because our gloves can fully open, they can be washed and dried. After playtime in the snow, if the inside of the gloves are damp from sweaty palms or deep, fluffy snow, just leave them open to dry. With the zipper sewn in across the knuckles, there is never an issue with the lining pulling inside-out!
But most importantly, our patented design is unique in the fact that it places the thumb opening closer to the finger openings. No other children's glove on the market uses this design. Think about it: children's hands are not the same as adult hands. The space between the thumb and the forefinger on a child's hand is up to a half-inch smaller. Our gloves address this physical difference and are specifically designed to accommodate a child's developmental stages, insuring a more snug fit.
With this knowledge, we have created a children's glove that is ergonomically correct. Our zippered-back design allows a child to see the finger holes, which helps the glove go on effortlessly. They fit snuggly (great safety feature, especially when skiing or snowmobiling), are functional and durable, and come with a "nose wipe" on the forefinger! And they are even machine washable.
###