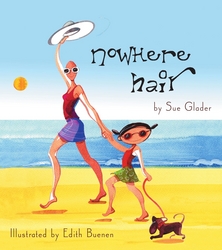 "Humor. Sensitivity. Positive images. Now, when a woman asks, "How am I going to tell my young child I'm going to lose my hair?" I have the perfect book." Diane Brandon, Cancer Resource Specialist, Marin Cancer Institute
Mill Valley, CA (PRWEB) September 17, 2010
How many of us, faced with explaining something difficult to a child, retreat into silence, or perhaps worse, fall over ourselves with too much information that only causes confusion and upset?
NOWHERE HAIR (Thousand Words Press, $15.99) written by Sue Glader and illustrated by Edith Buenen, offers women diagnosed with cancer – and their friends and family members desperate to do something to help – an honest yet upbeat way to tackle a particularly emotional conversation.
"Silence allows all kinds of ideas to creep in," explains Glader. "Kids start blaming themselves, and wonder if they are going to catch cancer. But then, five-year-olds don't need to know how a cancer cell mutates, or that chemotherapy is administered through an IV bag. They want to know that Mommy still loves them."
NOWHERE HAIR focuses its playful yet straightforward narrative on a small child's perspective of life when a loved one has cancer. As protagonist, the little girl in NOWHERE HAIR knows two things: Her mom's hair is not on her head anymore, so therefore it must be somewhere around the house. After searching the obvious places, the story reveals that her mother, although going through cancer treatment, is still silly, attentive, happy and yes, sometimes very tired and cranky.
Hats, scarves, wigs, and going bald in public is explained, as is the idea that what is inside of us is far more important than how we look on the outside. This book addresses children's guilt, fear and sadness with a light touch ("It makes me scared that she is sick. I want her well right now. She says, "Be patient, Little One." That seems so hard somehow."). For any parent or grandparent, NOWHERE HAIR offers a comfortable platform to explain something that is inherently very difficult.
"This book provides a great starting place for talking to children about cancer – and the outward things that can be so scary to children and adults," explains Dr. Laura Esserman, the Director of the UCSF Breast Care Center. Diane Blum, MSW, CEO of the Lymphoma Research Foundation, knows that a book like this has another important role. "Nowhere Hair offers an age-appropriate and honest explanation to children while speaking to the adult in a way that is empowering. Women who know they will lose their hair are reminded they are still beautiful and vibrant, even when bald."
AUTHOR INFORMATION:
Sue Glader is an award-winning freelance writer, mother, and breast cancer survivor living in Mill Valley, California. Her blog, Poking Around Life, can be found at http://www.sueglader.wordpress.com . NOWHERE HAIR is her first book. Edith Buenen is a fashion illustrator from Vught, the Netherlands.
PURCHASING INFORMATION:
Online: At http://www.NowhereHair.com
Phone: 415.388.2757.
Retail: Book Passage, Corte Madera. Depot Bookstore, Mill Valley Hatbox, and All Wrapped Up, all in Mill Valley. Books Inc in Palo Alto Town & Country.
PUBLISHING INFORMATION:
Title: Nowhere Hair
Written by: Sue Glader
Type: 32-page casebound
Age: Ages 3-7
Publisher: Thousand Words Press
Phone: 415.388.2757
Price: $15.99
Illustrated by: Edith Buenen
Illustrations: 35 full-color illustrations
ISBN: 978-0-984-3591-0-3
Website: http://www.NowhereHair.com
Published: August 2010
Synopsis: Nowhere Hair explains a loved one's cancer to little kids.
###