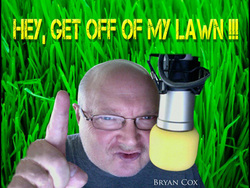 (PRWEB) September 15, 2010
The syndicated comedy radio feature "Hey, Get Off My Lawn" has expanded, allowing Celebrities to tell everyone, who or what they'd like off their lawn.
Everyone asks Celebrities, what they eat, who they're sleeping with and so on. BUT.. what really bugs them? "Hey, Get Off My Lawn", takes on that subject, in a short 2-5 min format. The host, Bryan Cox, Stand-Up Comic/Voice Actor and Author, now has expanded the show interviewing celebrities, such as Comic of the Year, Craig Shoemaker, Taylor Schilling from NBC's "Mercy", Alison Brie from "Mad Men" and "Community" and many more.
"Everyone has a pet peeve," said Mr.Cox. "Hey Get Off My Lawn is a fun radio feature that allows Celebrity guests to do a little plug and then take their shot, telling someone or something to … 'Hey,Get Off My Lawn'."
"Hey, Get Off My Lawn" is heard by over 200,000+ people on radio stations worldwide. Find out more from the VIDEO at the website.
About Bryan Cox
Over 35 years in Radio, Comedy and Voice Acting. He now works out of his own recording studio in Canada. Also tours as "The Get Off My Lawn Guy".
Press inquiries:
Canada 306-653-1523; US 213-785-8141 email: info(at)coxmarketing(dot)ca
To see the Video Demo please drop by http://www.coxmarketing.ca/Syndication_Avails.html
###