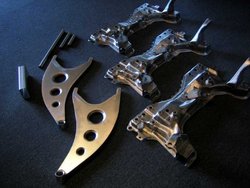 "With this patented technology, high strength structural items can now be created using Martensitic Stainless steel and used in a variety of applications, with significant performance and cost benefits," says Douglas Gore, VP Sales & Business Development.
Escondido, CA (PRWEB) September 14, 2010
Recognizing the need for low-cost, high strength structural tubing, KVA Stainless founder, Ed McCrink, and his development staff have implemented patented welding and thermal processing technologies to create seam-welded martensitic tubing, which took over 4 years to develop and perfect.
Coming out of the Navy with no experience in heat treating, Mr. McCrink started his career as a salesman for a thermal processing company in Chicago, IL. Within a couple of years, McCrink left his employer to start his own heat treating company in 1953 and grew the company to become one of the largest thermal processor in the United States, which specialized in bright annealing and bright hardening. Since successfully selling the Hi-Temp, Inc. plants in the 1970's, he has continuously pursued his vision of utilizing commonly available martensitic stainless steels to reduce weight and increase strength in structures. "McCrink is 89 years old and still comes to work everyday and it looks like he will soon have his own putter shaft developed and manufactured using his technology," says Douglas Gore.
KVA Martensitic Stainless Steel (MSS) tube and pipe are low-cost, high performance substitutes for traditional carbon steel, 12Cr and 13Cr materials. KVA MSS is the patented, original and only fully martensitic, high toughness seam-welded pipe, offering unsurpassed tensile strength, hardness and wear resistance as compared to common low carbon corrosion resistant modifications such as:
Duracorr®
Cromgard®
3Cr12
410S (UNS S41008)
409 (UNS S40920)
12Cr
13Cr
KVA Martensitic Stainless Steel pipes can be produced in standard sizes up to 36" and wall thicknesses up to 0.500". Non-standard sizes upon request.
KVA longitudinal seam-welded MSS can be produced fully hardened, fully annealed, or anywhere in between, at substantial cost savings over seamless 410 or 420 pipe! Typical properties of KVA MSS pipe:
Hardened:
Yield strength: 160 ksi (1100 MPa)
Ultimate tensile strength: 205 ksi (1400 MPa)
Hardness: 370-390 Brinell (40-42C Rockwell )
Elongation: 8-9%
Annealed:
Yield strength: 45 ksi (300 MPa)
Ultimate tensile strength: 80 ksi (530 MPa)
Hardness: 130 Brinell (80B Rockwell )
Elongation: 30+%
The introduction of KVA Martensitic Stainless Steel for the transport, oil and gas pipelines is ideally suited for mildly corrosive, abrasive media applications such as:
Oil sands
Slurry pipelines
Coal transport
The abrasion resistance of hardened KVA MSS tube and pipe is unmatched – maximizing durability, reliability and reducing erosion-corrosion failures. KVA Martensitic Stainless Tubing can be produced with chromium content ranging from 11.5wt% to 16wt%, maximizing production and service life while minimizing cost.
Until recently, welding of Martensitic Stainless steel into tubing has been impossible because it will cold-crack in the heat-affected zone under mechanical straining and forming. For this reason, Martensitic Stainless has long been considered the most difficult of the five types of Stainless to weld.
KVA STAINLESS technology can benefit any market segment where component weight, strength and corrosion resistance are critical issues, providing a superior alternative to conventional materials. Ideal applications include:

Automotive components and structures
Aviation components and structures
Gas and oil production pipelines
Petrochemical and process piping
Agricultural equipment
Earth-moving equipment
Train/rail cars and equipment
Heat-exchangers
Medical devices and wheelchairs
Action sporting goods – golf, baseball, bicycles
For more information, please contact Douglas Gore, VP Sales, KVA Stainless, 124 S. Market Place, Suite 200 Escondido, Ca 92029, 760-489-5821 dgore(at)kvastainless(dot)com http://www.kvastainless.com
# # #