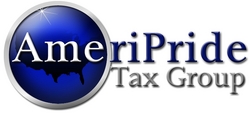 "Accreditation by the BBB is a significant milestone for our organization." ~ Victoria J. Burns, AmeriPride Tax Group Managing CPA
Santa Ana, CA (PRWEB) September 23, 2010
AmeriPride Tax Group, a leading provider of tax planning, preparation and help, today announced that it received accreditation by the Better Business Bureau (BBB).
"Accreditation by the BBB is a significant milestone for our organization," said Victoria J. Burns, AmeriPride Tax Group managing CPA. "It is third party verification of our commitment to customer service."
AmeriPride Tax Group received the accreditation from the Better Business Bureau's Southland office, which serves the Southern California region. The BBB is the authority on trust in the marketplace and has been setting and upholding high standards for ethical marketplace behavior since the 1920s. BBB accreditation is a highly sought after honor earned by elite businesses who adhere to the BBB standards for quality, reliability, and trust.
AmeriPride Tax Group's commitment to superior service is evidenced by testimonials from clients such as Calvin Casey. Mr. Casey lives alone. He received a very aggressive notice of wage garnishment that would have left him with just a few hundred dollars on which to live. After paying his rent, he would have had nothing left to buy food, pay for utilities or put gas in his car to get to work. The stress was negatively impacting Mr. Casey's health until he asked AmeriPride Tax Group for help. Acting quickly, the company released the wage garnishment in time to save his current paycheck.
"In late July I received a notice of wage garnishment from my employer," wrote Mr. Casey. "I notified Victoria J. Burns of AmeriPride Tax Group of the situation. The response was great. Victoria had the situation under control and had me back on track that same day. Victoria even checked on me on her own time to make sure my health was okay … I finally feel someone is on my side and I have peace of mind."
AmeriPride Tax Group is dedicated to helping people regain and maintain control of tax matters. They provide professional tax planning, advice and support for current and back tax issues involving sales taxes, payroll taxes, and excise taxes as well as state and federal taxes for businesses and individuals.
About AmeriPride Tax Group
AmeriPride Tax Group provides protection, peace of mind, and results to taxpayers seeking permanent solutions to IRS, state, payroll, sales and excise tax issues. Employing a team of tax professionals, including certified public accountants (CPAs), enrolled agents (EAs) and attorneys, AmeriPride Tax Group evaluates every situation to determine the best course of action. Offering strategic tax planning, tax preparation and help for specific tax problems, AmeriPride Tax Group is accredited by the Better Business Bureau and is an active member of the American Society of Tax Problem Solvers (ASTPS) and the National Association of Tax Professionals (NATP).
For more information or to access free tax education resources visit http://www.AmeriPrideTaxGroup.com or call 888-265-3418 today.
###