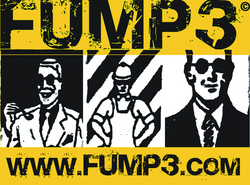 Dave Stewart (Eurythmics) Twittered on Sat 4 Sept… @fump3dotcom "great music and site mate"
(PRWEB) September 14, 2010
FUMP3.com has been set up to discover and promote 'Famously Unsigned' artists by providing original MP3s for free to the end user.
FUMP3 Creative Director DP Browns says, "We work hard to help the bands create their b®and look and feel to enhance the music product for a richer and more distinctive experience".
The label has been Inspired by the work of STIFF and FACTORY RECORDS in the 70's and 80's, and their aim is to promote accessible, commercial originality.
Currently FUMP3.com have the following b®ands on their roster.
CCP (original vintage late 80's)
Gonks Go Beat (speechless mindless priceless)
Bongo-Go (they're gonna go-go-go)
Wireless Fun (when wireless meant radio and fun meant everything)
Siberian For Cowboys (cassette class C60)
Surf Beat (Beat Box meets Beach Boys)
Tokyo-Yo (60's beat 70's attitude 80's hair)
and The Browns (Don't get the Blues. Get the Browns)
Featured artists - The Browns - have produced a debut demo LP with all 10 tracks as videos featured on the label's YouTube channel. http://www.youtube.com/user/FUMP3films
Some of the tracks were recently reviewed by iLike and GarageBand.com viewers in USA, Canada, UK Italy and Argentina.
Some of our most recent and upcoming marketing and packaging visuals will be featured in a new book "Sound and Design" by the German publisher Feierabend Unique Books in the Autumn of 2010.
Most recently - the label were endorsed by an original music icon - Dave Stewart of Eurythmics had a few nice words to say - see the blog on the FUMP3 website for details...
The FUMP3 Team
London England
E: info(at)fump3(dot)com
# # #