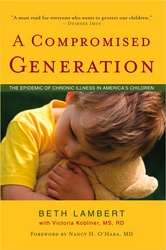 "With profound insight, A Compromised Generation is a must read for protecting our children." --Deirdre Imus, bestselling author and President of the Deirdre Imus Environmental Center for Pediatric Oncology
Boulder, CO (PRWEB) September 15, 2010
An estimated 1000% increase in the diagnosis of autism over the past 20 years has researchers and parents scrambling to uncover the mystery behind the illness. While some researchers continue to work on unraveling the genetic roots of autism, others are finding that environmental factors play a significant role in the autism epidemic.
The epidemic of autism has physicians, researchers and parents very concerned. With researchers proclaiming that they can only find a convincing genetic cause in less than 15% of all cases of autism, environmental factors such as toxin exposure, diet, and medications that disturb gastrointestinal and immune health have become the new focus of research.
Author Beth Lambert believes that the alarming increases in chronic illnesses such as autism, ADHD, allergies, and asthma can be attributed to very specific changes in our environment over the last few decades. She argues that chronic illnesses " have complex etiologies that are particular to each individual, and genetics alone cannot explain the origin. Instead, [researchers] speculate that chronic childhood illnesses develop from a perfect storm of toxic overload, improper nutrition, dysregulated immune function, and unhealthful lifestyles, among other contributing factors."
Lambert is the author of A Compromised Generation: The Epidemic of Chronic Illness in America's Children (http://www.acompromisedgeneration.com). Her book discusses environmental factors, such as excessive exposure to toxins, specific American habits and lifestyles, and decades of pharmaceutical over-usage as some of the underlying causes of the epidemics. She provides details as to how this epidemic can be reversed and how to prevent more children from becoming ill, supplying evidence that children can recover from chronic illnesses, including autism, by altering their environmental influences and by stepping outside of the traditional western medical paradigm.
Lambert is a former healthcare consultant and teacher who attended Oxford University and graduated with honors from Williams College. She is the Executive Director of PEACE: Parents Ending America's Childhood Epidemic, a 501c3 non-profit organization dedicated to educating the public about the epidemic of chronic illness affecting our youth, and helping parents connect with other parents and appropriate healthcare providers. (http://www.epidemicanswers.org)
A Compromised Generation
By Beth Lambert
ISBN: 978-1-59181-096-4
$18.95
Health/Parenting
Distributed by: National Book Network
Available at bookstores or directly from the publisher, Sentient Publications.
For more information, contact Connie Shaw, Sentient Publications.
1113 Spruce Street
Boulder, CO 80304
Phone: 303.443.2188
Fax: 303.447.1511
cshaw(at)sentientpublications(dot)com
http://www.sentientpublications.com
###