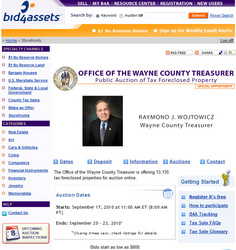 This is easily the highest level of interest I've seen in any of our online auctions.
Hatboro, PA (PRWEB) September 14, 2010
"I've never seen Web site traffic like this before!"
So says Matt Baker, CEO of Bid4Assets, which is currently hosting a preview of more than 13,000 tax-foreclosed properties in Wayne County, Michigan.
"This is easily the highest level of interest I've seen in any of our online auctions," Baker continued. "This just strengthens my belief that this is an incredible opportunity for real estate investors. The convenience and ease of online bidding not only makes the whole process easier for everyone involved, it also opens the auction up to investors from coast to coast – and even internationally."
The online preview and auction (bidding takes place September 17 -23) is the first of its kind and the largest ever for Wayne County, which has retained the services of Bid4Assets.com a leading online real estate auction site as their exclusive partner for disposition of these properties.
The timing of this particular auction could not be better and marks a tremendous opportunity for investors interested in purchasing real estate in the Detroit/Wayne County market. Many observers of the Michigan real estate market are noting signs of a significant turnaround. Greta Guest in the Detroit Free Press, for example, wrote on August 16 that "with at least 2,500 jobs coming to Michigan in the next two years, relocation experts say a mini real-estate boom could be in the making."
The online nature of the auction streamlines the bidding process. This year Wayne County is facing a 44 percent increase in tax-foreclosed properties up for auction when compared to last year.
"In selecting an Internet auction service, we sought a firm with extensive experience in county government online tax foreclosure auctions and a proven record of increasing sales and revenues," said Wayne County Treasurer Raymond J. Wojtowicz. "The firm had to provide a clear cost/benefit advantage to a live auction and a process that is easy to use, and affords those without computer access an alternate method of bidding. Our goal is to ensure that the Internet auction not only streamlines the process and increases property sales and revenue but also enables anyone who wants to participate to be able to do so."
"It is my belief," Wojtowicz added, "that given current market conditions, as well as the mandate of Michigan law, the online auction process is an essential and timely tool for efficient delivery of county service."
For additional information on the auction and to view the properties, visit:
http://www.bid4assets.com/wayne13
###