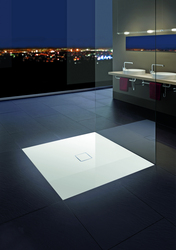 Indianapolis (PRWEB) September 22, 2010
The extra-shallow, floor-level Conoflat shower tray from Kaldewei is redefining the luxury shower experience. The elegant, sleek product keeps in line with the recent trend away from closed shower areas towards open systems that complement bathroom décor and design.
No longer a special solution product, the new Conoflat shower tray, with its stylish appearance, clear purist design and lack of visible inner contour, imparts a harmonious overall appearance to the contemporary bathroom. And as the name suggests, Conoflat is extremely flat and installs flush with the floor, integrating seamlessly into bathroom design. The central outlet with square, enamelled cover blends harmoniously into the overall look of the product, while providing unrivalled comfort underfoot.
The shower tray, part of Kaldewei's Avantgarde segment, is available in 17 different dimensions, ranging from 31.5" by 35.43" to 39.39" by 55.12, allowing it to become the highlight of both small and large bathrooms. The Conoflat is available in classic white, black and pergamon.
The new Kaldewei Conoflat combines contemporary aesthetics and safety into one stylish product. The floor-level installation means it is not only easily accessible, but also prevents the user from stumbling, with full anti-slip enamelling for maximum safety and comfort. Water, dirt and particles of limescale simply run off the surface of the shower tray with easy-clean finish, an optional extra. And like all Kaldewei bathtubs and shower trays, the Conoflat comes with a 30-year guarantee.
Steel enamel: why choose a tray over a tiled shower tray area?
Apart from aesthetic design, hygiene is a deciding factor in bathroom fixtures. In independent comparative testing Kaldewei steel enamel shower tray bases showed a significantly lower surface contamination with bacteria and require significantly less cleaning effort than tiled shower tray floors. The surface structure of fully tiled areas, makes it much more difficult to remove limescale, soap and dirt residues completely, and can lead to germ build up and the associated discolouration of the grouting.
About Kaldewei
The Kaldewei brand stands for superior quality, discriminating design and creative solutions for the bathroom. The company began in 1918, under Franz Kaldewei, and, in 1958, produced the world's first "seamless" bathtub. Kaldewei maintains a tradition for innovation that has made it the leading bath manufacturer in Europe with a product range of more than 300 baths and shower tray trays and designs created by the Italian design studio Sottsass Associati in Milan, Phoenix Design in Stuttgart/Tokyo and in-house. The company's commitment to quality and durability is reflected in a 30-year guarantee on all Kaldewei steel enamel baths and shower tray trays. The enamelled steel is 100 percent recyclable and Kaldewei's sound environmental approach to manufacturing, packaging, shipping and disposal makes the products particularly interesting for ecological, sustainable building projects. Kaldewei is family owned and operated and headquartered in Ahlen, Germany.
###