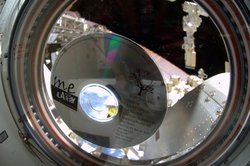 There's a space in the blinding light. A spinning sphere above our heads, it's a sign for us to transform.
Bronxville, NY (PRWEB) September 21, 2010
Astronaut Kenneth T. Ham took the Me and Larry CD "Blinding Light" into space with him on the Atlantis Space Shuttle's flight this year. As noted on the Nasa website: It was the 132nd Space Shuttle flight, and the 32nd Shuttle flight to the International Space Station. Ken Ham and his wife are big fans of Adams Pascal and Larry Edoff and wanted to share their love of this recording with the universe.
"Blinding Light," by Broadway star Adam Pascal (Rent, Aida, Cabaret) and songwriter Larry Edoff, combines Pascal's unmatched vocal range - from aching and suave to raw and explosive - with Edoff's flawless musicianship and vast musical vocabulary where jazz and rock meet touches of world music twinged with classical. Highlights include Pascal's gritty vocals that perfectly embody the edgy lyrics in the rock song "Turn the Lights On." In titillating contrast is the sassy and suggestive duet "Call Your Bluff," where Pascal and Rent co-star Daphne Rubin-Vega intertwine in a Brazilian-Argentinean tango. "Just Like I Am" is a standout, with Pascal and a chorus of gospel singers begging for love despite imperfection. Edoff's vocal depth and emotive honesty soar in "Will I Drown," a call for help as the world speeds out of control. The result is an album of unsurpassed stylistic range and lyrical depth that carries the alternative-rock genre to new creative heights.
You can see Adam Pascal and Larry Edoff on tour this fall and early next year.
Please visit the Me and Larry website for more information.
TOUR DATES:
2010
September 25: Frostburg State University, Maryland, w/Anthony Rapp
November 13: Queens Theater in the Park
November 20th & 21st: San Francisco and Napa Valley
December 15-28: Japanese Tour - Me and Larry with Anthony Rapp
2011
Jan 9: NYC, APAP Hilton Hotel - Showcase (solo and w/Rapp)
Jan 10: Town Hall, NYC
Jan 15: Port Washington- duet show with Anthony Rapp
Jan 21: Irvine Barclay Theater, CA, with Anthony Rapp
March 12: Medford OR
April 14,15,16: Red Deer, Alberta Canada- Me and Larry
###