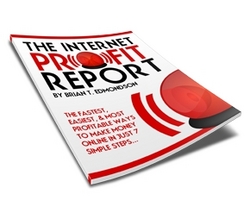 Making money online does not have to be rocket science.
Philadelphia, PA (PRWEB) September 15, 2010
You needn't look far for information on making money online. After all, didn't Internet Marketing people invent the term "information overload"? The question Brian Edmondson asks (and so should you) is this:
Are you really getting the real story?
And if the so-called Internet "gurus" are any indicator, the answer is no.
In order to get to the heart of Internet Marketing, you need real access to what the experts are doing now, not what they did five years ago. All too often, some fast-talking "expert" will appear on television or radio with a self-produced infomercial to promote some overpriced home study course or software package that promises to unlock the secrets of making money online.
No wonder Internet Marketing gets such a bad rap these days…
"Making money online does not have to be rocket science," states Brian Edmondson. "There are so many people who succeed online with simple yet effective strategies; it is a shame that the real story of Internet Marketing is not getting out there."
Driven by a desire to bridge the guru-beginner gap, Edmondson has written the "Internet Profit Alert". In this free report, Brian "betrays" some of his online marketing colleagues by revealing things about the business that, well, some feel are better left unsaid.
Available at http://www.internetprofitalert.com/free-report-pr.html, Internet Profit Alert spills the beans on the three (3) fastest, easiest, and most profitable ways to make money online. In addition, it will give you the inside scoop on:

3 Proven Online Business Models that run on virtual autopilot (just set it and forget it).
The World's Craziest Internet Business.
What Internet business building tools to make your life easier and which ones to avoid...
7 Simple Steps to Getting Your First Website, First Subscriber, & First Sale Every Single Time...
And much, much more...
Does Edmondson go too far in Internet Profit Alert? Not a chance, says Brian:
"If anything, I may not have said enough in my report. It's time we separate fact from fiction, and myths from truths. The real story here is the effort to move the debate away from scams and shady practices and into how Internet Marketing can help new and existing businesses thrive in a competitive economy."
Before writing him off, Brian challenges people to ask themselves three questions:
1. If you were offered solid online business coaching from a person who has experienced his own ups and downs in life, risk-free, would you take it?
2. If one tactic was all it took to grow your offline business online, would you want to know what it is?
3. If you were a complete newcomer to Internet Marketing, wouldn't it be great to nail the basics right away?
For your free copy of Brian Edmondson's Internet Profit Alert, go to http://www.internetprofitalert.com/free-report-pr.html, and claim immediate access.
Brian T. Edmondson is an author, speaker, and Internet entrepreneur specializing in helping people start, build, and grow profitable internet based businesses.
After leaving his "Wall Street" job in 2001, Brian found true success and independence through the power of the Internet. He has launched several websites, and has worked full time online from his home outside of Philadelphia for several years.
###