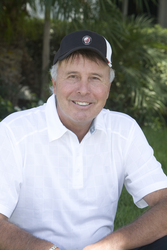 One of the worst side effects to long rounds that I have noticed is the increase in people leaving the game.
Irvine, CA (PRWEB) September 21, 2010
Deciding it's time for golfers to stop complaining about excruciatingly long rounds and unite against "global slowing," Patrick Mateer has published "The Return of the Four Hour Round" ($14.95, 117 pages) and launched the Four Under Golf campaign (http://www.fourundergolf.com).
"Over the past 50 years the game of golf has gone from a steady flow to a stop-and-go activity," said Mateer, a tournament operator and accomplished golfer. "We can complain about slow play, and see how much farther along that gets us. We can stop playing the game we love. Or, we can join what I call the 'movement about movement' and open up that bottleneck on the golf course with a comprehensive solution to this growing problem: Educate players to move around the golf course more efficiently."
Mateer, 56, took to the game as a 10-year-old playing with his father, Don, at Hacienda Golf Club in La Habra Heights, Calif. It was Patrick Mateer's Hacienda course record that Tiger Woods broke with a 62 in the 1994 SCGA Amateur. Mateer toured the world as a golf professional for six years before retaining his amateur status in 1986, the year he launched Championship Golf, which operates destination tournaments and events for companies such as TaylorMade and adidas Golf.
"It's fair to say that pace-of-play issues have had a profound influence on my life," said Mateer. Personally, he's chosen to play less golf and especially less tournament golf. And as a tournament organizer, he has changed formats and reduced fields to deal with the slowing.
"In one yearly event, we had 104 teams participate 10 years ago," Mateer said. "Today we limit the field to 80 teams so that everyone has enough daylight to finish. And one of the worst side effects to long rounds that I have noticed is the increase in people leaving the game. The bottom line is that there is no upside to the slowing of the game of golf."
In "The Return of the Four Under Round," Mateer looks beyond tried-and-failed strategies such as marshals, lectures, penalties, warnings, fines, rules and threats -- "Trust me," he said, "I've tried them all" – and examines the behaviors golfers all learned and practice as they chase the little white ball. In a friendly but firm tone, Mateer addresses the attitudes and influences that cause slow play and challenges players themselves to make simple changes to return the 18-hole round of golf to four hours or less.
The book discusses the attitudes and influences (as well as the excuses) behind the lengthening of the game. Mateer explores such factors as: the role models golfers see on television, a golfer's sense of entitlement after paying a hefty fee to play golf, lack of consideration for others, and the misconception that more preparation time and rituals before a shot improve the likelihood of a successful result.
The golf swing, Mateer notes, takes about 1.2 seconds to perform. Though this essential component of the game hasn't changed in 600 years, he says, the game has expanded from a free-flowing pastime of three or four hours to an arduous journey taking up to six hours. The book describes four steps golfers of all skill levels can take to improve the pace of play: Improve their own habits, set an example, speak up, and spread the word.
The book also dispenses advice and strategies – all falling under the "Four Habits of the Four Under Golfer." The habits: Be prepared, be in position, move with purpose, simplify your routines. "The Return of the Four Hour Round" details each habit, and Four Under Golf endeavors to teach them to all golfers regardless of age or ability.
Public golf courses, private clubs, and golf resorts soon will be invited to support the movement by becoming Four Under Golf Clubs committed to halting and reversing global slowing through educating players, distributing information and offering benefits to golfers who play Four Under Golf.
In the meantime, individual golfers, golf courses and golf clubs fed up with slow play can voice support for the Four Under Golf movement for free simply by joining at http://www.fourundergolf.com.
ABOUT FOUR UNDER GOLF:
Launched by Patrick Mateer in 2010 with the book "The Return of the Four Hour Round" and the web site http://www.fourundergolf.com, Four Under Golf aspires to heighten every golfer's awareness of how individual behaviors influence the time it takes to play a round of golf. Mateer, a former pro golfer whose company, Championship Golf, operates tournaments for TaylorMade, adidas Golf and others, wearied of the common complaint from fellow players that the game takes too long to play. He decided to spearhead a movement to stop the global slowing and urge players to learn and pass on the habits that will allow them to play a round of golf in four hours or less. Four Under Golf strives to work with individual golfers, golf courses, golf associations, golf professionals, golf educators, golf media and the golf industry to eliminate "slow play" from the golfing vocabulary. For more information, please visit http://www.fourundergolf.com.
For a review copy of the book or to schedule an interview with Patrick Mateer, please contact Susan Fornoff.
###