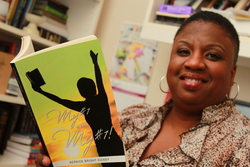 Families across this nation have shared an eventful year of multiple tragedies.
(PRWEB) September 28, 2010
U.S. families have had their fair share of losses in an eventful year so far that has been filled with multiple tragedies. From the North American blizzards to the earthquake in Haiti this past winter; from the Midwestern floods to the California wildfires; from the unusually high number of 784 tornado outbreaks experienced in April-May this spring, to the continued economic recession the country is still in. Some families experienced their losses publicly and made the national news such as those affected by the BP explosion, massive flooding and out of control wildfires. Others experienced more private losses due to their savings finally becoming depleted, health challenges and foreclosures as a result of job losses.
Many wonder how will they ever recover and start over after experiencing so many losses. Author of the newly released book, http://www.bernicebrightdickey.com [My #1 Is Still My #1!, Bernice Dickey, says that grief is a hard subject to talk about and many do not know how to comfort the bereaved. Whether it is a loss due to the death of a loved one or the loss of one life's work due to layoffs, or natural disasters such as wildfires, floods, blizzards or tornados. Loss is loss and needs to be respected as such and given the proper respect to allow people to process grief over their losses without feeling hurried and stressed.
One tip Bernice offers to families trying to make sense of their tremendous losses is to write down their thoughts and feelings in a journal to aid in processing grief and loss. Being grateful for what you have left instead of what is gone is also a great way to deflect the depression that often accompanies grief. Finally, celebrating life as the new focus of family gatherings will foster an appreciation for the simpler things. Bernice suggests that families start new traditions that center around more time spent together and not just wait for the holidays to get together.
There are many books available on grief and loss, but there's only one book, My #1 Is Still My #1! that deals with grief recovery after experiencing multiple losses suffered at either the same time or within a short period of time. "My #1 Is Still My #1!" is a resource book that will teach family and friends how to help their loved ones navigate through pain after experiencing a loss of any kind.
# # #