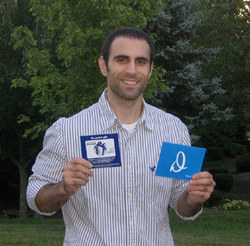 "CureSearch does truly invaluable work in the fight to cure childhood cancer," said George Davison, founder and CEO. "We could not imagine a more worthy organization, and we are honored to support them through our giveaway this month."
Pittsburgh, PA (PRWEB) September 14, 2010
Davison, a new product development firm that builds new product ideas for corporations and independent inventors, is pleased to announce the latest winner of its nationwide giveaway, "Find the 'D' and You Could Win Money!" Domenic, a recent medical school graduate in West Virginia, entered on the last day of August and won that month's drawing. He was thrilled.
"That's awesome!" Domenic exclaimed when he got the good news, which could not have come at a better time. The new physician just started his residency and is also planning his wedding. He and his fiancée chose a $500 gift card to Bed, Bath & Beyond as their prize. "I'm really excited about that," he said.
In its first three months, the "Find the 'D' and You Could Win Money!" giveaway has drawn entries from every region of the country. In honor of National Childhood Cancer Awareness Month, the first 100 participants to enter in September will help to support CureSearch for Children's Cancer. For each entry, Davison will make a $10 donation to CureSearch, which funds lifesaving cancer research.
The Pittsburgh-based design firm chose CureSearch because of its support for Children's Oncology Group, the largest cooperative pediatric cancer research organization in the world, made up of medical professionals who treat more than 90% of children with cancer in the U.S., at more than 200 hospitals. Through the collaborative research supported and funded by CureSearch, COG has improved cure rates for children's cancer at a pace much faster than any one individual or single institution could accomplish alone.
"CureSearch does truly invaluable work in the fight to cure childhood cancer," said George Davison, founder and CEO of Davison. "We could not imagine a more worthy organization, and we are honored to support them through our giveaway this month."
Davison launched its "Find the 'D' and You Could Win Money!" giveaway to celebrate the milestone of 150+ products and packaging solutions designed by Davison that have sold in over 600 different retail outlets.
Although headquartered near Pittsburgh, PA., products and packaging designed by Davison can be found in stores all across the country. The firm of 250 employees credits its success to George Davison's unique method of building ideas into products that makes the process affordable for inventors, entrepreneurs and corporations.
"We have refined our method to the point that we are now able to transform the ideas of average people, as well as those of corporations, into actual products on the store shelves at a greater rate and consistency than any other company in our industry."
The inventor and fourth-generation businessman is also becoming known as "the Henry Ford of inventing" because he brought the process of affordable inventing to the average person, just as Henry Ford made the automobile affordable to the masses.
"I find it extremely rewarding to be able to help the everyday idea person bring their idea for a new product to life, and then hear their reaction after they actually see it in packaging and on the store shelf," Davison said. "There's nothing more exciting."
Participants in the giveaway need only find a Davison-designed product or package in a store (no purchase necessary), take a photo and send it in via email, upload or postal mail. A list of Davison products and the brick-and-mortar stores that have carried them can be found at http://www.davison.com . The next winner will be drawn on Oct. 1. For full contest rules, go to http://www.davison.com/contest .
To find out more about CureSearch for Children's Cancer go to: http://www.curesearch.org .
Products designed by Davison have sold in stores across the U.S., including Target, Bed Bath & Beyond, Walmart, Home Depot, Sears, K-Mart, JC Penney, Jo-Ann Stores, FAO Schwarz, Cabela's, Dick's Sporting Goods, and many more. For more information, go to http://www.davison.com .
###