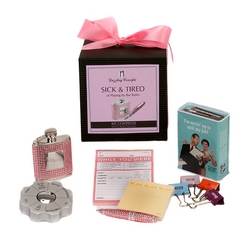 "The gift kits are a humorous approach to de-stressing and relaxing after reaching that proverbial breaking point"
Atlanta, GA (PRWEB) September 27, 2010
Sometimes just being a woman is stressful. Women play many roles in life and struggle-to-juggle all that comes their way. But there is a breaking point. That's when its time to get Sick & Tired. Sick & Tired gift kits are the perfect way for womankind to blow off steam, relax and treat themselves or a friend to unique items that provide a simple reprieve to become the woman they know they are.
Sick & Tired, a new product line from Dazzling Concepts, offers gift packages that address one of many common situations that cause one to feel...well, just plain sick and tired. These include:
l Sick and Tired of Being a Busy Mom
l Sick and Tired of [Working] Playing by the Corporate Rules
l Sick and Tired of Dating or Being Single
l Sick and Tired of Juggling It All
l Just Freakin' Tired of Everything
"The gift kits are a humorous approach to de-stressing and relaxing after reaching that proverbial breaking point," says Faylene Bell, Chief Mood Strategist of Dazzling Concepts and creator of the Sick & Tired gift concepts. "Gift bags contain several items that address a particular stress inducing situation." For instance, in the Sick and Tired of Dating or Being Single gift kit is the Better Than a Boyfriend Soap among other things. The Sick and Tired of Juggling It All gift kit contains a mixed drink mix and a Sick & Tired cocktail glass.
Dazzling Concepts also offers Sick & Tired T-Shirts and Panties. "Wear the T-shirt with jeans and make a bold statement or wear the panties under clothes as a subtle means of getting even", says customer Michelle Patterson. Both the T-shirt and panties are emblazoned with a rhinestone Sick & Tired logo for the ultimate affirmation. In the near future, Dazzling Concepts will be offering Sick & Tired men's gift kits and a number of other exciting additions. To learn more about the company's gift kits, visit http://www.dazzlingconcepts.com.
###