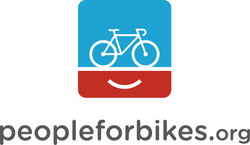 "Schools across the country are stepping up to meet our children's health needs and help solve our national childhood obesity epidemic," said Tim Blumenthal, director of the Peopleforbikes.org campaign.
Boulder, CO (PRWEB) September 14, 2010
Biking to school could become one of our nation's best remedies for childhood obesity and increasing funding for projects that support this rising trend should be a national priority, says Tim Blumenthal, director of the Peopleforbikes.org campaign that is working to unify one million Americans in support of a better future for biking.
Forty years ago, 48 percent of U.S. children biked or walked to school. Today, just 12 percent of children arrive at school by bike or on foot. During this period, U.S. childhood obesity tripled, while the number of children driven to school increased nearly 400 percent—adding to debilitating morning and afternoon road congestion, coast to coast.
However, the national Safe Routes to School movement, boosted by new federal funding that began in 2005 as well as professional support programs in all 50 states, has been working hard in 6,000 communities to make biking and walking safer, easier, more popular, and more fun.
The first round of program evaluations reveal positive change. A 2007 analysis of California schools showed that Safe Routes to School infrastructure improvements increased biking and walking to school by up to 200 percent. Also, recent data shows that during the last decade, both the increase in childhood obesity and the decline in biking and walking to school have leveled nationwide.
Safe Routes program provide other tangible benefits. Children who bike or walk to school are more likely (than kids who are driven) to be alert and engaged in classwork throughout the day. Infrastructure improvements funded with Safe Routes money enhance the cycling and walking experience all day, every day – not just for children but for all residents of a community.
The federal Safe Routes to School program is funded through the end of 2010. It will likely be re-evaluated—and perhaps expanded--early in 2011 in conjunction with Congressional consideration of a new multi-year transportation bill. The bicycling and walking components of this legislation are the key focus of the Peopleforbikes.org campaign.
"Schools across the country are stepping up to meet our children's health needs and help solve our national childhood obesity epidemic," said Blumenthal. "Given the success we've seen, increased funding in the next transportation bill to expand these programs and get more children on bikes should be a top priority."
Safe Routes to School investments help communities and schools construct new bike lanes, pathways, sidewalks and other facilities, as well as launch Safe Routes to School education, promotion and enforcement campaigns in K-8 schools.
Innovative programs are being developed that inspire biking and walking to school. One of the most promising efforts is called Boltage, which uses a solar-powered radio-frequency identification tracking machine called the Zap to count biking and walking trips to and from school. The Zap connects to the internet and provides students and parents with daily reports on trips made, calories burned and CO2 saved. Schools also use the reports to support biking and walking incentives program.
Close to two dozen schools in six states have implemented the Boltage program. Some have seen walking and biking levels increase almost 500 percent in the first year.
"Although Safe Routes to School has helped more than 6,000 schools so far, more than 90 percent of U.S. schools have yet to engage and have yet to benefit," said Blumenthal. "Imagine all the health and quality-of-life benefits we'll realize when the number of schools engaged in this program doubles."
Editor's note: Please contact Allison Janney (612.305.6392 / allison(dot)janney(at)exponentpr.com) if you are interested in learning more about Safe Routes to School programs and connecting with representatives from participating schools in your coverage area.
###