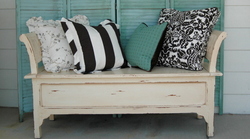 "We were invited by Amazon.com to partner with them because our designs are few-of-a-kind. They are available only on our site and Amazon, so customers can count on original designs they won't see in any shop." - Owner Kerry Ann Dame
Myrtle Beach, SC (PRWEB) September 15, 2010
PillowFolly.com has joined forces with online powerhouse Amazon.com to bring their unique, few-of-a-kind pillow designs to a wider audience. The pillows, handmade in South Carolina, are made of carefully selected designer fabrics. Pillow collectors will appreciate that the designs are not sold in any mass-market stores. Created by business partners Layla Altman and Kerry Ann Dame, the designs spring from whatever fabulous fabrics are inspiring them in their design projects. The limited number produced means that when a pillow sells out it may never be repeated. New pillows appear frequently.
Many of the fabrics are from exclusive, high-end fabric houses and are not available at retail. Fans of shelter magazines such as House Beautiful and Domino will appreciate the designs, which are created for the shopper who wants something other than the mass-market experience.
While some designs, such as Ikats, Modern Graphics, and Hollywood Regency are right on trend, others, such as the American Cottage and Beach House Brights, are intended to be timeless.
All pillows are finished with zippers for cleaning, and some have been pre-shrunk for washability.
"We enjoy working with beautiful fabrics so much we wanted to find a way to play with them day in and day out" says Altman, "while at the same time, we saw an opportunity to increase employment here in small-town South Carolina by increasing work-flow to our seamstresses".
The reasonably-priced labor force in the area allows prices at PillowFolly.com to be very competitive compared to boutique and interior designer prices in major metropolitan areas. That factor, combined with the increased exposure at Amazon, should be a win-win situation for both the company and local jobs.
Find out more at PillowFolly.com,
And see the designs online at Amazon
###