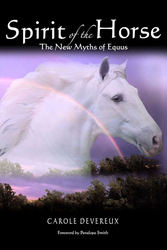 Animals have the capacity and the power to expand their minds into extraordinary states of consciousness. My horses have often shown their otherworldly journeys into The Dreamtime to me. Buddy once told me that he can "feel" the hoof beats of his specie
La Center, WA (PRWEB) September 15, 2010
Can nature and animals enlighten, guide and help humans to restore a lost chord of sacred truth and meaning in our lives? Internationally known Animal Communicator and Spiritual Life Coach, Carole Devereux answers this question in her groundbreaking new book Spirit of the Horse – The New Myths of Equus. Here, for the first time, a window opens into the spiritual life of horses that may have only been imagined by initiated shamans.
Early in her career, Devereux discovered a deep telepathic bond with her horse Buddy, beginning a 13-year adventure into equine mysticism. As they came to know a direct experience of the divine together, Spirit of the Horse began to take form. While many books have been written on animal communication, Devereux guides the reader beyond that familiar landscape, introducing fresh knowledge of equine perspective and unlocking the endless possibilities present when we truly listen to what horses are saying.
Pioneer Animal Communication Specialist Penelope Smith says, "Take the invitation offered here to revive within yourself the "Sacred Language of Spirit." Editor Tristan Stark describes the book as "a work of interspecies cultural restoration". Testimonials continue to stream in from readers all over the world.
"This work is a meditation on a deep dream that I have been nurturing for many lifetimes," said Devereux. "It is the fulfillment of a promise I made to myself to work to alleviate animal suffering, especially for horses, all over the world."
Devereux will appear on the radio program Talk 2 the Animals on September 16 at 11 AM PDT ( http://www.blogtalkradio.com/talk2theanimals ). She will also deliver a talk and book signing at New Renaissance Bookstore in Portland Oregon on October 23 from 7 – 8:30 pm.
ISBN 978-1-884422-24-9
To arrange an interview or book signing or order a copy of the book, contact Carole Devereux at: http://www.spirit-of-the-horse.com or call 360-263-7268.
About the Author:
Carole Devereux is an internationally known Animal Communicator, spiritual life coach, and teacher. She has more than 15 years experience counseling thousands of people and their animals across North America and Europe. Carole and her husband, Gregory, live in Washington with their horses, dogs, and cats.
Contact Information:
Carole Devereux
Email: caroledevereux(at)animalinsights(dot)com
Website: http://www.spirit-of-the-horse.com
40402 NE 74th Avenue
La Center, WA 98629
Office: 360-263-7268
###