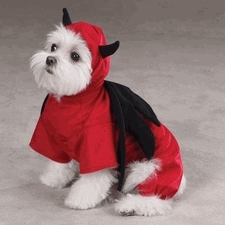 Halloween can be just as much fun for pet owners as the kids.
(PRWEB) September 21, 2010
With a wide variety of costumes available for dogs, Halloween can be just as much fun for pet owners as the kids. DazzleDogDelight.com offers costumes that are both cute and safe for dogs.
Regardless of whether owners have dogs that are dressing up, Dazzle Dog Delight owner Joy Randel offers these dog-friendly Halloween safety tips.

Dogs can get anxious when trick-or-treaters are constantly ringing the doorbell. Try sitting outside with a bowl of candy.
If the door opens frequently for kids seeking candy, put the dog in another place in the house where they are safe.
Keep the dog away from jack-o-lanterns with candles inside, which can easily be knocked over and start a fire.
Keep dogs away from the candy, especially chocolate, which can be poisonous to dogs.
When buying a Halloween costume, make sure the outfit allows the dog to breathe easily and does not cover their eyes or restrict hearing.
Safe and cuddly dog costumes available on DazzleDogDelight.com include:
Dinosaur Costume: This one piece dinosaur costume is bright dinosaur green with blue dots and tail fins. Velcro fasteners make for easy on and off.
Lobster Costume: This lobster costume is a great catch! It includes lobster paws, antennae, and lobster bug-eyes.
Pumpkin Costume: This super soft costume will have friends howling with laughter this Halloween. The cap has a velcro strap for a secure fit.
Devil Costume: This is a great way to show a dog's devilish side. The costume includes a red hood with horns.
About DazzleDogDelight.com
DazzleDogDelight.com is devoted to passionate dog owners who are serious about style and substance. With a selection of hundreds of unique luxury items, DazzleDogDelight.com offers gifts for the dog who has everything. Founded by a dog lover who traded in a 25-year technology career, Dazzle Dog Delight donates five percent of its profits to the SCPA.
###