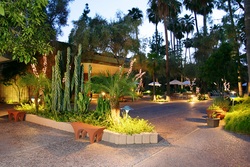 Tempe, AZ (PRWEB) September 15, 2010
Celebrating 35 years of warm Southwestern hospitality, the Fiesta Resort in Tempe, AZ, is pleased to offer a Fiesta Fall Frenzy to encourage visitors and Valley residents to savor the delicious menu items at "Arizona's unexpected oasis."
Guests staying at the resort any night between September 15 through November 14, 2010 will receive a $50 food & beverage credit per day at Milagros Restaurant, the Kachina Lounge or room service. Room rates vary by night selected.
The Fiesta Resort is located at 2100 South Priest Dr., Tempe, AZ 85282. For reservations and information, call 800/528-6481 or 480/967-1441, or visit http://www.fiestaresortcc.com.
About The Fiesta Resort
An Arizona landmark since 1975, the Fiesta Resort offers a unique style of comfort and warm Southwestern hospitality to ensure guests have an enjoyable and memorable experience. Their 270 beautifully furnished guestrooms and Executive King Rooms, set amidst lush landscaping, koi ponds and patios, feature generous amenities in an exceptional setting.
Guests can enjoy a heated swimming pool and whirlpool, fitness center, dining at Milagros Restaurant and the Kachina Sports Lounge, and complimentary transportation to/from Sky Harbor International Airport. The state-of-the-art Conference Center, unveiled in January 2008, boasts more than 30,000 square feet of flexible indoor and outdoor meeting space, including the 7,300-square-foot Fiesta Ballroom.
Managed by North Palm Beach, FL-based Driftwood Hospitality Management, LLC, whose current portfolio comprises 21 hotels in thirteen U.S. states, the Bahamas and Costa Rica, the resort is owned by CGD Tempe LP.
###