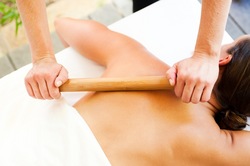 Austin, TX (Vocus) September 14, 2010
When Lynne Vertrees starts planning new services to add to the 100+ treatments on Lake Austin Spa Resort's spa menu, she only has to look one place for inspiration. Nature.
"As I developed the new treatments for the spa menu, I was inspired by the rich, fragrant surroundings of the Texas Hill Country and by the many gifts found in our lakeside organic gardens," says Vertrees.
Vertrees is a spa industry veteran and the resort's Spa Director and Director of Treatment Development. Her inspirations come from her surroundings and her products are sourced from the most innovative skin care lines from around the world. On October 1, 2010, her latest creations, including several new services for teens, will debut on the treatment menu at the number one rated destination spa in the United States. Below is a list of the new additions as well as online.
Massage Treatments:
Bamboo Bliss
A relaxing massage with warm bamboo tools. For centuries, bamboo has signified good luck, long life, peace and harmony. Today, it can signify a deeply soothing massage for you. Specially crafted bamboo tools, warmed and infused with lemongrass oil for your comfort, work on various parts of your body, sliding, rolling, kneading and creating a fruitful friction. Because the tools can cover a large area of your body at one time, they are great for trouble spots like your neck, shoulder, back or legs. 80 minutes $210
Intuitive Body Work using Chakra Oils
An intuitive reading of your personal chakras. What do your chakras – your seven vital energy points – say about your future? Your reader will anoint your chakras with oils specific to each of them and intuitively interpret the results. Your reader's light touch will release stagnant energy and promote healing, putting you in tune to your energy center's highest vibration. An enlightening and energizing process. 80 minutes $250
Body Treatments:
Texas Sage Herbal Infusion
A detoxifying and revitalizing body treatment. We begin with hot, fragrant herbal poultices placed on your energy meridians to restore your vigor and vitality. Then we apply a desert sage clay masque and wrap you in sheets infused with wild Texas sage and lavender. Warm stones under you invoke the effects of a native sweat lodge, cleansing your skin. As you relax, you'll be soothed with iced towels on your head and neck, accompanied by a scalp massage. After showering, you'll return to the table for a relaxing, hydrating application of jojoba body lotion. A sage decision!
110 minutes $315
Best of the Southwest
A hydrating body scrub and massage. This treatment draws on the magic of local mesquite and its natural anti-microbial and anti-oxidant properties. A mesquite sugar scrub gently polishes and refreshes your skin with mesquite honey, mesquite meal enriched with jojoba oil and pure sugar. After a shower, your fresh complexion is soothed and protected with an application of honey and orange blossom body lotion. While you're swathed in a warm wrap, your hair and scalp will be treated with Desert Dew conditioning treatment and your feet will be soothed with ginger tea tree mango butter foot cream. A mesquite treat! 80 minutes $195
Facials:
Serum of Youth Plant Stem Cell Facial
A regenerating facial drawing on recent scientific discoveries. Swiss scientists have discovered that plant stem cells, drawn from the wound tissue of plants, can replace damaged cells in human skin. In our treatment, an herbal enzyme peel is followed with a plant stem cell serum to stimulate new skin growth and slow cellular aging. It's a natural face lift treatment, finished with a firming and lifting cream to reduce fine lines. 50 minutes $170
Teen Treatments:
Face Basics
A facial designed for teen skin. Focusing on teen complexion issues like oiliness and acne, this gentle, balancing treatment includes a lesson on how to take care of your skin with the right cleansers and moisturizers for your skin type. Look good and learn!
50 minutes $140
Make-Up 101
A make-up application and lesson. We'll give you the fresh, beautiful make-up application that's right for your face. And we'll show you the proper techniques to make your own applications easy and fast. Plus, what to always have in your make-up bag.
25 minutes $45
Teen Energy Boost Massage
Massage therapy for teens. Enjoy a massage designed to optimize your mobility, balance and energy. Plus it will ease discomfort in your muscles and joints. First you'll be dry brushed to refresh your skin, then massaged with arnica oil infused with the essence of wild sage. We'll pay special attention to the areas around your joints, with gentle movements to harmonize and balance the energy flow throughout your body.
50 minutes $140
Packages:
Teen Dream
A combination of our most popular teen treatments, all together for a totally spa-tastic experience. The package includes Face Basics facial, Make Up 101, Nail Candy Manicure and Teen Energy Boost Massage. Available as a full-day package or, without the massage, as a half-day package. The price for the full-day package includes a $25 guardian fee for a spa employee to accompany the minor. (If the teen is over 18, this fee will be credited back for a purchase in our boutique.) Children must be 13 or older to receive spa services.
Full Day Package: $425
Half-Day Package, without massage: $260
About Lake Austin Spa Resort:
Nestled along the shores of scenic Lake Austin in the beautiful Texas Hill Country, Lake Austin Spa Resort offers guests the sanctuary of a world-class spa and the warmth of a best friend's lake house. Lake Austin Spa Resort offers all-inclusive vacation packages, which include accommodations in one of 40 charming lakeside guest rooms, three gourmet meals daily, indoor and outdoor fitness activities and classes, and a selection of spa and body treatments.
The resort has received numerous awards from prestigious national travel and spa magazines since its multi-million dollar renovation and expansion in 2004. Condé Nast Traveler, Travel + Leisure, Allure, the Zagat Survey, Health, Garden Design, SpaFinder Lifestyle, Spa Magazine and American Airlines' Celebrated Living magazine have recently honored Lake Austin Spa Resort as one of the best in the country and in the world.
For additional information and reservations, call 800-847-5637, or visit the website.
Media Contact: Darlene Fiske, 512-331-7755
Photography available upon request
###