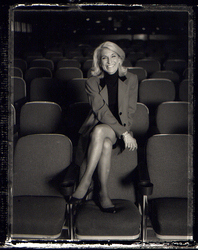 "Catherine's world-class achievement is without question truly historic" - Danny Girton, Jr, Guinness World Records
New York, NY (PRWEB) September 27, 2010
How many sick days have you taken in the last 24 years? How many vacation days? For Catherine Russell, a New York actress, general manager, teacher and producer who works a 98-hour work week, the answer is zero. For this feat, Russell has been inducted into The Guinness Book of World Records for not missing a day of work since 1987.
"Catherine's world-class achievement is without question truly historic," said Danny Girton, Jr, Adjudications Executive at Guinness World Records. At a time when people are uncertain about job security, her story is both inspiring and a lesson in how to survive by wearing multiple hats in a fledgling economy.
Catherine plays psychiatrist and potential cold-blooded killer Margaret Thorne Brent in Perfect Crime, the longest-running play in the history of New York theater. As of today she has performed the role 9,582 times since the play opened on April 18, 1987. She performs the role eight times a week, every week and has spent over two years of her life (16,000+ hours) onstage without ever taking a sick day or vacation day – in 24 years. Through the years, she has shot 89 different men and kissed 57 others in the popular thriller!
In 2005 Catherine Russell's life completely changed and she took on a new additional career -- theater builder/manager. The building that housed Perfect Crime was sold for a record sum of over $100 million and Perfect Crime found itself without a home. Exactly three weeks after her 50th birthday Catherine finished building a new home for Perfect Crime in The Snapple Theater Center, a 20,000-square-foot entertainment complex located in the heart of Times Square. She built the theater herself, supervising the plumbing, electricity, HVAC and even lugging 400 theater seats into the theater. She says that she found physical strength that she didn't even know she had and impressed men half her age by carrying pieces of sheetrock bigger than she was.
Catherine single-handedly secured a corporate sponsorship deal from the beverage company Snapple by writing a letter to its corporate offices. She converted a former beauty school into two state-of-the-art theaters, one of which houses Perfect Crime and the other which houses another NY cultural institution, The Fantasticks, the world's longest-running musical, which Catherine co-produces. The Snapple Theater Center is the only Off Broadway theater located directly on Broadway and the first corporate-sponsored Off Broadway theater in history.
In addition to acting in Perfect Crime eight times each week and general managing The Snapple Theater Center, Catherine teaches year-round at NYU and Baruch College. She is a member of several theater organizations including The League of Professional Theater Women. Catherine's story is inspiring because when faced with a seemingly insurmountable challenge she was able to create entirely new and better theater space, giving a home to the countless Broadway performers, writers, producers and audience members who pass through the doors of "The Snapple" each year. Since founding The Snapple, some of the actors who have performed, appeared or rehearsed there include Al Pacino, Kyra Sedgwick, Kevin Bacon, Alan Alda, Kathie Lee Gifford, Cybill Shepherd, James Gandolfini, Cynthia Nixon, Kim Cattrall, Rosie O'Donnell, Chris Noth, Jesse L. Martin and Kristin Chenoweth.
Perhaps what's best about all of this is that Catherine shows no sign of stopping. Now 54, Catherine is creating several additional new theaters in Times Square that will make a whole new slate of plays and musicals possible. (She may let someone else carry the sheetrock, however.)
For more information on Catherine Russell and Perfect Crime, visit http://www.perfect-crime.com.
###