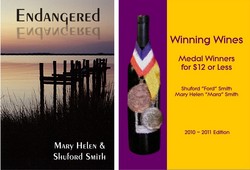 "We want people to find our titles entertaining and satisfying," says Smithwrights partner, Ford Smith.
Tryon, NC (PRWEB) September 20, 2010
Smithwrights announces its first two books: a fiction title, "Endangered," and a non-fiction title, "Winning Wines: Medal Winners for $12 or Less." The books are written by Mary Helen and Shuford Smith.
"Endangered" is a suspense novel in the Georgia sea islands. The novel immerses the reader in the sea island environment and culture. In a well-researched, well-plotted story, the main character deals with life and death issues for humans and loggerhead turtles.
"Winning Wines: Medal Winners for $12 or Less" features a compilation of gold, silver, and bronze medal winners in the biggest blind-taste-test wine competitions. Each listed wine has medaled in more than one wine competition, assuring buyers of great-tasting wines at reasonable prices.
The two titles were introduced on September 4 at Tryon's 125th birthday celebration. Tryon, a cultural center in western North Carolina, is the birthplace of Nina Simone and the current home place of Lilian Jackson Braun of "Cat Who" fame. The town claims to be "Nearly Perfect, Always Tryon."
The next book signing for both books will be October 9 at The Edisto Bookstore on Edisto Island, South Carolina where the Smiths lived while working on the novel. Other book signings are in the process of being scheduled in Charlotte, North Carolina (where the couple lived when volunteering for their first loggerhead turtle project) and Savannah, Georgia (the closest city to where the novel is set).
Both books are available through Smithwrights, Smashwords, as well as Amazon and its subsidiaries. Check out http://www.endangeredthebook.com and http://www.winning-wines.com for additional information and all print and e-book formats.
These two books are the Smiths' eighth and ninth books. Their retirement books are available through McGraw-Hill. Their children's book (brought out by Peel Productions) won a national Children's Choice Award. Their camping guides (now out-of-print) were published by Globe-Pequot.
###