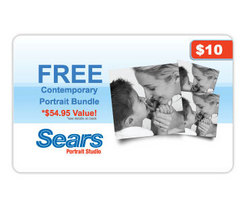 Everyone wins with these discount cards. The group makes up to 90% profit and the card holder gets $54 of portraits for just $10.
Mansfield, TX (PRWEB) September 14, 2010
Easy Fundraising Ideas and Sears Portrait Studios have partners to offer a new product to the fundraising community.
Sears Portrait Studio put together a package that includes 3 portraits and waived the customary sitting fee - a package they value at $54.95 - and allow fundraising groups such as schools, sports groups, churches and non profits cards to offer fundraising cards that can be redeemed for the package for just $10,
"This is one of the best new fundraising discount cards to come around in a long time," said Howard Gottlieb, President of Easy Fundraising Ideas. "This is one of those fundraisers where everyone involved wins. Sears Portrait Studios gets a lot of new customer. The fundraising group can make up to 90% profit and the person buying the discount card gets a real value on quality portaits from Sears Portrait Studios."
Sears Portrait Studio decided to include 3 premium portrait sizes that include an 8 x 8 and two 5 x 5 portraits. The customer can choose from black & white, sepia, vignette or border. When including a typical sitting fee the package is valued at $54.95.
"The timing of the release of this program couldn't be better," said Gotltieb. "Schools are just getting back in session. Sports groups are also starting their fall seasons. And church members are returning from their summer vacations.
"They can offer these cards now and get supporters to purchase them as holiday gifts. With the economy slow it gives families a chance to get a great deal at Sears Portrait Studios for a fantastic price."
Unlike other fundraising programs the Sears Portrait Studio discount card can be used at participating Sear Portrait studios anywhere in the United States. Easy Fundraising Ideas offers an easy locator tool on their website so potential fundraising groups can view the closest participating locations.
"Most discount card programs are location specific," added Gottlieb. "These card are great because they can be used throughout the country. That means you can sell cards to family members that live in different states."
For more information on these fundraising cards contact Easy Fundraising Ideas at (866) 874-8383 or visit their website http://www.easy-fundraising-ideas.com
# # #