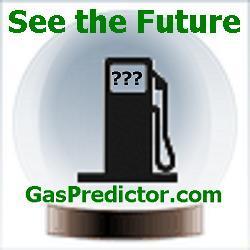 subscribers can save many times the cost of a subscription by following our advice
Centerville, GA (PRWEB) September 15, 2010
The daily Gas Predictor Newsletter, which provides an amazingly accurate prediction of the next day's retail gas prices in the U.S., is now one third off the original price. Every business day, subscribers know whether the price of gas is going up or down tomorrow, so they always know when to fill up and when to hold off.
GasPredictor.com has an amazing success rate of over 99%. Their predictions of retail gas prices in 21 cities across the U.S., and for the U.S. as a whole, have only been wrong eight times since they began daily publication of their "Gas Predictor" in November, 2008.
While subscribers only save a dollar or two at a time with each successful prediction, they can now realize those savings for a trifling cost. It is now possible, and in fact it has already happened, that a subscriber could save the cost of an annual subscription in one well-timed fill-up.
"The whole idea," explains Chuck Bonneer, GasPredictor.com's lead analyst, "is that our subscribers never feel the frustration of driving past a gas station with newly reduced prices, but they can't take advantage because they just filled up the day before. With these new lower prices, it's not just a fun thing, it's a real money saver."
The very morning that these new lower subscription prices went into effect, GasPredictor.com reported a very large increase in retail gasoline prices in Chicago. Since Friday's Gas Predictor Newsletter had advised Chicago subscribers to gas up on Friday to avoid a price increase over the weekend, a subscriber who bought 20 gallons of gas would have saved the entire price of a one-year subscription in a single tank of gas. Bonner explains, "It's rare that we have an event like this weekend's 15-cent price hike in Chicago, but even with a typical savings of 2 or 3 cents per gallon here and there, subscribers can save many times the cost of a subscription by following our advice."
Subscribers can also save on gas when the price goes down. If the price is going down tomorrow, Gas Predictor will let them know that they should buy gas tomorrow rather than filling up today.
Cities served by local Gas Predictor Newsletters are Boston, Atlanta, the Nashua/Hudson area of New Hampshire, New York City, Long Island, Raleigh, Tampa, Orlando, Chicago, Houston, Kansas City, St. Louis, Denver, Phoenix, Las Vegas, Los Angeles, San Diego, Oakland, Portland (OR), Seattle, and Tacoma. There is also a free edition that covers the U.S. as a whole. More local edtions are being added all the time, but only for localities within the 48 contiguous United States.
Subscribers receive the forecasts in their e-mail each business day in the afternoon, in plenty of time to decide whether to fill up on the way home from work. These forecasts are also posted on the Web site each workday morning, but that only gives you a few hours notice, and in fact, the price may already have gone up before the prediction is published on the Web.
There is a strict limit on the number of subscriptions to each local edition. Once there are 2,000 subscribers in each city, no more subscriptions to that local edition are offered until someone lets their subscription expire.
Subscribers can switch from one local edition to another at no cost, but they are subject to the 2,000 subscriber limit. If the edition they want to switch to is already fully subscribed, they have to wait until a subscription becomes available.
Annual and quarterly subscriptions to the Daily Gas Predictor email newsletter are available exclusively through the Web site, at http://www.gaspredictor.com/SubscribeMain.htm.
Members of print and broadcast media may request a complimentary subscription to their local edition, subject to subscriber limits and other restrictions. Send inquiries to presskit(at)gaspredictor(dot)com
###