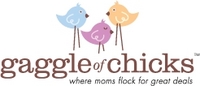 "Gaggle of Chicks is committed to offering the deepest discounts on the best New York has to offer moms and their families."
New York, NY (PRWEB) September 14, 2010
Gaggle of Chicks, a next-generation social e-commerce website for moms, launches in New York City. Gaggle of Chicks is where moms flock for great deals, finding huge daily discounts on the most sought-after products and services that the city has to offer.
Gaggle of Chicks merges group buying and social networking by awarding (or "hatching") heavily discounted deals if enough moms sign up for them, leading to savings of 50 percent or more on "mom recommended" activities, services, and products. Moms can share those deals with their friends and family via e-mail, Facebook or Twitter.
The Gaggle of Chicks team consists of native New Yorkers – moms, dads, aunts, and uncles – who want to find ways to make their city an easier place for families to live in.
"Gaggle of Chicks knows how much moms do for their families every day, and how hard it can be to make it all run smoothly," said CEO Matt Evans, who previously worked in venture capital and in brand marketing at Cheerios. "We are committed to offering the deepest discounts on the best New York has to offer moms and their families."
The Gaggle of Chicks team has scoured the five boroughs to find best in class deals to save moms time and money, including:

Nutrition and Food: 60 percent off home-delivered natural and organic kids' meals from Susie's Supper Club;
Youth Sports: 60 percent off sports classes for kids ages 1-12 from Kids in Sports;
Beauty Products: 50 percent off pure organic hair and skincare products for babies and kids from Babo Botanicals; and
Health and Wellness: 53 percent off mom fitness classes at Strollercize.
By signing up at GaggleofChicks.com, moms will enjoy:
Selected daily deals: a daily email sent straight to their inboxes with offers of 50 percent or more off of everything from children's classes to bakeries to beauty products. Gaggle of Chicks is highly selective about the deals it features, preferring vendors that have been recommended by our team of moms. Every day, we feature a new deal for moms and their families that runs for 48 hours.
GaggleMama: insight from one Manhattan mother-of-two, plus her daily tips on parenting, products, services, and survival.
Discussion forums: a place to connect with other moms and read and write reviews on the products and services featured on Gaggle of Chicks before purchasing.
To ensure that we capture the best the city has to offer, Gaggle of Chicks has assembled a growing Mom Advisory Board, consisting of leaders such as Laura Deutsch, Founder & Owner, babybites & kiddybites; Pam Gold, Founder, WestVillageParents.org; Wendy Heilbut, Advisor, Gaggle of Chicks; Heather Ouida, Co-Founder & Owner, babybites & kiddybites; Lara Paul, Creator, iKidNY; Laura Steenburgh, Board Member, Family Action Network; and Lyss Stern, Founder & CEO of Divalysscious Moms and Editor-in-Chief of Observer Playground.
According to BizRate Research, moms' top concern is feeling like there isn't enough time in the day to get everything done, and almost half of moms report feeling "overworked or overwhelmed." In addition, according to Media Post, 90 percent of women prefer brands recommended by other moms, and in a recent study published by TheBump.com, online discussions are the second most trusted source behind face-to-face conversations for moms.
About Gaggle of Chicks
GaggleofChicks.com selects and features deals on the best that cities have to offer moms and their families, saving moms 50 percent or more on top-notch "mom recommended" children's classes, bakeries, spas, restaurants, and more. The company is headquartered in New York City and will be rolling out to major cities throughout the remainder of 2010 as well as in 2011. To sign up for our deals or to find out more about Gaggle of Chicks, please visit http://www.GaggleofChicks.com. You can also follow Gaggle of Chicks on Facebook at http://www.Facebook.com/GaggleofChicks and on Twitter at http://www.Twitter.com/GaggleofChicks.
For Partners
Gaggle of Chicks creates lasting partnerships with businesses that are interested in generating a flock of new customers. We research the products and services featured on our site extensively. For our partner vendors, we provide a high-quality performance marketing solution that requires no upfront costs. In addition, all of our partners receive free marketing to the Gaggle of Chicks community. To learn more about how Gaggle of Chicks partners with businesses and how we can get to work for you, please email Partners(at)GaggleofChicks(dot)com.
# # #