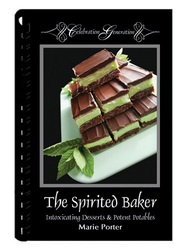 "I love hearing about the ways that people are playing around with the recipes. One of our readers used my building-block liqueur recipes to create a white chocolate chai cream liqueur, and tweeted about it. That sounds amazing! " - Marie Porter
Minneapolis, MN (PRWEB) September 21, 2010
Marie Porter has penned a new chapter to her storied career: cookbook author. Porter - award winning cake artist and owner of Celebration Generation Cakes - recently released her first cookbook, "The Spirited Baker: Intoxicating Desserts & Potent Potables".
As a trained Mixologist, Marie has combined her bartending knowledge with aptitudes for baking and experimentation, culminating in a spirited cookbook for beginner and experienced home cooks alike. Using liqueurs in place of more traditional flavoring extracts and liquid ingredients, the easy to follow recipes cover a wide variety of desserts, such as Candy Apple Flan, Jalapeno Beer Peanut Brittle, and Strawberry Daiquiri Chiffon Pie.
The book, described as "A celebration of spirits and liqueurs... as baking ingredients!" explores not only baking a large variety of desserts flavored with liqueurs, but also creating endless flavors and types of liqueurs at home.
"I've never been one to follow a recipe straight out - I like to have a few building block ideas, concepts, or directions, and just run with it. When it came time to write my book, I wanted it to reflect that baking/cooking philosophy. The first chapter of the book shows how to infuse spirits with various flavors, and then provides options on how to develop that flavored spirit into any number of different liqueurs. Use one-or more - of a number of different syrup recipes to sweeten it. Make it a cream liqueur... make it a chocolate based cream liqueur. The possibilities really are endless. It's like a "Choose your own Adventure" book... but tastier!"
That philosophy carries through to The Spirited Baker's dessert recipes. Many recipes allow for any number of liqueur choices, with flavor combination suggestions provided. The Spirited Baker contains over 160 recipes, with suggestions to make an endless variety of desserts.
Additional recipes are routinely posted to Celebration Generation's blog, with recent "spirited" entries including a recipe for hop flavored beer lollipops, or "Lollihops".
With one foot on either side of the Gen X / Gen Y divide, Marie Porter has enjoyed a wild ride in her young career life. Her work has been featured in magazines and blogs around the world, including the May 2010 issue of "Every Day with Rachael Ray" magazine. She was the winner of the first ever TCBA ICON Award for Excellence in Cake design, judged by Sylvia Weinstock in 2008 . Porter has made a name for herself by having fun with cake competitions, creatively interpreting guidelines and submitting wacky, unexpected cake designs.
A "Nerd - and proud of it!", Porter is the inventor of a line of 3 highly caffeinated baking mixes, and attracted attention around the world by attending an event industry award dinner with an entourage of 4 Klingons. More recently, she created a Dr Who themed "Tardis" cake for "Star Trek: The Next Generation" star Wil Wheaton, resulting in tweets about her work by a handful of celebrities, including Wil Wheaton, Neil Gaiman, Cake Wrecks blogger Jen, and performers Paul & Storm.
Before crafting cakes for a living, Porter enjoyed moderately successful careers in bridal gown, floral, and graphic design. Laughs Porter: "I've suffered from Attention Deficit Disorder for most of my adult life, it's only been fairly recently that I've learned to harness it. It's been a battle, I've gotten so used to going so far in an endeavor, only to get bored and need to move on. With writing my cookbooks, I feel challenged, fulfilled, and happy now!"
Porter's second cookbook, "Evil Cake Overlord: Ridiculously Delicious Cakes" is set for a January 2011 release.
About the Book
Recipes in "The Spirited Baker" include Bananas Foster Upside Down Cake, Blueberry Amaretto Pie, Jalapeno Beer Baklava, Creme Brulee, Fondues, French Martini Cupcakes, Rum Raisin Tarts, Tiramisu Ice Cream, and Truffles... along with various infused spirits, liqueurs, bar syrups, and many more.
For further information, contact Marie Porter at publishing [at] celebrationgeneration.com or (612) 388-9409. The price is $16.99 plus $4.00 shipping/handling. For more details and to order, visit http://www.thespiritedbaker.com
About the Author
Marie Porter is an award winning cake artist based in Minnesota's Twin Cities. Known as much for her delicious and diverse flavor menu as for her sugar artistry, Marie's work has graced magazines and blogs around the world. As a trained Mixologist, Marie has combined her bartending knowledge with her aptitudes for baking and experimentation, culminating in a spirited cookbook for beginner and experienced home cooks alike.
The Spirited Baker: Intoxicating Desserts & Potent Potables
Marie Porter
182 pages, 5.5" x 8.5" soft cover
ISBN-13: 978-0-9846040-0-5
###