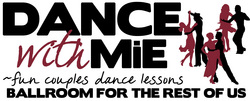 The every-day couple who simply wants to have fun, look good and feel confident dancing together should have access to that opportunity... without breaking the bank!
Tempe, AZ (PRWEB) September 21, 2010
In a traditional ballroom studio, students are taught to dance ballroom in its glamorous performance style. Both the major chains and the local studios tantalize students with the thrill of feeling like a star to participate in their regional and national dance competitions. The catch? They require thousands of dollars of private instruction and students must pay costly competition fees for the opportunity to do so.
A self-professed dance-a-holic, Christie Simmons was beyond disappointed as a teacher in a traditional ballroom studio. She was in love with the art but horrified at the overly profit-centric business practices she saw. As popular shows like "Dancing with the Stars" and "So You Think You Can Dance" introduced the general public to the beauty of partner dance, couples were signing up left and right in hopes to experience the magic of dance. Watching clients front thousands of dollars for the opportunity to feel more feminine or more masculine as they hoped to gain confidence through partner dance was sickening. Simmons firmly believed that "the every-day couple who simply wants to have fun, look good and feel confident dancing together should have access to that opportunity... without breaking the bank!" Fast forward a few years and she built her own dance studio, Express MiE, where she created that very opportunity.
Instead of locking her clients into large packages of costly private lessons Simmons offers six-week small group courses in areas such as Latin (Salsa), Swing and Country Dance. In each course her students learn the basics of a few types of partner dance. Each class is packed full of useful tips and tricks plus individual attention, a formula that has couples having fun on the dance floor in no time. Although they learn steps from traditional ballroom dances, Simmons deliberately uses current music so her students can take the moves they learn out onto any dance floor together. She also focuses heavily on teaching her students to be excellent leaders and followers, as opposed to teaching them to simply memorize patterns, ensuring they build all the right communication tools they need to enjoy dancing together. She creates beautifully happy social dancers, instead of happily beautiful competitive dancers. Which, according to her students, is exactly what the general population wants to be.
In addition to offering cost-saving small group lessons Simmons has created a special teaching method that students love. Her background in accounting and engineering gives her a unique perspective on dance. In her own words, she "studies dance out mathematically and then presents it in a simple, straight forward way so that her students can easily comprehend what to do." She cuts right to the chase, providing the basic principles necessary to enjoy dance and look good while doing so. Men especially like her logical teaching style, which is quite convenient since more of the burden is on them as leaders. Many the intimidated man has walked out of their first lesson with a tangible sense that they will be successful in dance. She only works with couples, but has created dancer duos out of couples ranging in age from their early 20's all the way through to their late 70's.
It's a rarely considered but powerful truth that learning to dance is an amazing boost of confidence for both men and women. In addition to making it affordable and easy, Simmons also keeps it fun. It's not uncommon to see her tossing fortune cookies to pop-quiz responders, cracking jokes during class and using silly exercises that have surprisingly good results. She is passionate about making sure everyone has a chance to learn what it takes to get in on the fun that dance can provide. And, she is dedicated to teaching dances and moves her students can, and will, go out and use. Yes, she uses all the proper and traditional styles and steps from ballroom dance that are useful in social settings. But, no matter what you call it, she "get's it" that people simply want to feel comfortable & free out on the dance floor. And that is exactly what she teaches them to do. "I think dancing is the bomb-diggity best way to have fun!" Simmons says, "But, I may be slightly biased..." she admits with a wink and a smile.
Dance with MiE: Ballroom Dance for the Rest of Us courses are available exclusively at Express MiE. Each six-week course is available for $195 (per couple) when purchased under early bird pricing, $275 if not. Wedding "First Dance" lessons are also available. At the heart of all Express MiE classes is a dedication to developing self-confidence through dance. Express MiE is most well-known for their signature Pole~ah~Tease sensual pole dance course, but also offers dance and fitness options in dozens of other styles. Visit expressmie.com or call (480) 626-5973 for more information.
###