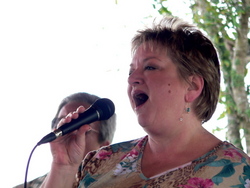 I listen to your CD in my car every day. It's like a little package of healing! - Jeanie C., Ft. Lauderdale, FL
Fort Lauderdale, FL (PRWEB) September 15, 2010
This exciting new release contains 12 power-packed songs straight from the heart of God's Word. Featuring Marian's beautiful vocals and Rick's exciting percussion, these songs will thrill your soul. Tracks include:
It's the Word
Speak the Word!
Multiplication
Rhythm of Outreach
Come and See
The Greatest Secret
Walk Like They Walked
I Love to Speak in Tongues
Fear Not!
Fulness of Joy
To Give Back to You
God is Good, Always
It's available in this exclusive Internet offer for $10 plus shipping, a $2 saving over regular price! Contact Marian via email for ordering information.
###