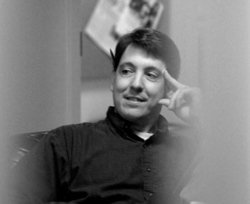 "The mystique that the creative process should be contained by one department is dead. Creative people and thought should flow throughout the agency, and a creative director should drive that thought."
Beachwood, OH (PRWEB) September 14, 2010
After an exhaustive nationwide search, Point to Point, a Cleveland-based marketing and advertising firm, has announced Greg Thomas as creative director.
As creative director, Thomas will guide the development of all agency content, as well as the creative thinking of the entire agency. He will be deeply involved in clients' business challenges and will be a catalyst to helping the agency develop creative solutions to those challenges.
"Greg represents an evolution in the agency landscape," said Mark Goren, president at Point to Point. "The mystique that the creative process should be contained by one department is dead. Creative people and thought should flow throughout the agency, and a creative director should drive that thought."
In his 28-year advertising career, Thomas has helped internationally recognized brands across a wide range of categories be more successful. Most recently, he was a practitioner-in-residence at Kent State University, leading the development of a creative curriculum and launching The Tannery, Kent's student-run marketing communications firm.
Founded in 1982, Point to Point is an advertising and interactive marketing firm that helps our clients identify, bring into focus and overcome complex marketing challenges. Our expertise in branding, interactive marketing, social media, SEO and media planning allows us to solve each client's unique problems in ways that maximize results. Our goal is always to be a catalyst of change for our clients by moving them from where they are to where they want to be. For additional information, visit http://www.pointtopoint.com or follow us on Twitter @pointtopointinc.
###