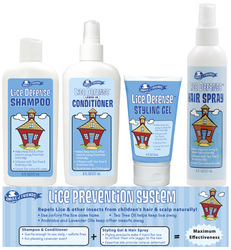 Santa Monica, CA (PRWEB) September 15, 2010
In their continued efforts to help parents and children keep their schools and communities a lice-free zone, Circle of Friends comes to the rescue with the introduction of their Lice Defense Styling products! Already having found great success with the launch of their powerful yet gentle Lice-Free Zone Shampoo and Leave-in Conditioner, Circle of Friends has expanded their lice preventative line to include the new Lice Defense Hair Spray and Styling Gel. Lice prevention doesn't mean you have to sacrifice style!
When it comes to head lice, the solution has usually been focused on harsh, unpleasant treatments that must be administered to children after the lice come home. But Circle of Friends has shifted the focus to prevention. After all – isn't preventing lice in the first place the most desirable option?
Lice Defense Styling products help shield the hair shaft, making it difficult for lice to attach their nits (eggs) to the hair. Tea Tree, Andiroba and Lavender Oils are the key ingredients that keep lice away safely and naturally. Mighty tools for the battle against lice, the Lice Defense Styling products are also gentle enough for daily use. And the soothing kid-friendly lavender scent will help your little ones make a powerful lice-free fashion statement this school year.
Lice Defense Hair Spray & Styling Gel
-Natural ingredients repel lice
-Formula is gentle enough to be used daily
-Kids love the clean, lavender scent
-Use until school is a lice-free zone again!
Before they were known as the lice prevention experts, Circle of Friends was making salon quality hair care products for children that combined the best of science and nature. Since 1995, they have been carefully crafting each product, using only the finest ingredients – exotic botanical extracts, gentle cleansers, vitamins, minerals and yummy fragrances!
Circle of Friends is an enlightened children's company for a new generation of parents. Each year, the mom-owned company donates thousands of products to nonprofit organizations that care for, educate and inspire children. Visit circle-of-friends.com for more information.
Contact: Danny Moscoso 800.267.4781 x320
###